'Whistleblower' questioned police payments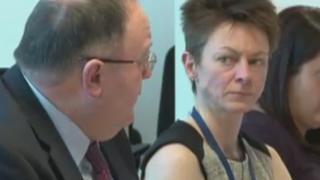 A financial expert at Scotland's police watchdog raised concerns about a number of payments made to senior figures, an employment tribunal is to hear.
Amy McDonald raised her concerns as director of financial accountability at the Scottish Police Authority (SPA).
She claims she was frozen out after bringing the potential misuse of public funds to the attention of SPA leaders.
Her lawyer told the BBC the tribunal would determine whether she had been penalised after making her allegations.
The payments disclosed by Ms McDonald include thousands of pounds paid to Deputy Chief Constable Rose Fitzpatrick.
There is no suggestion DCC Fitzpatrick acted improperly in receiving the money.
Employment tribunal
The Scottish Police Authority oversees Police Scotland and helps set the single force's annual £1bn budget.
It said the payments referred to by Ms McDonald had been independently audited and a report of the audit would be published "in due course".
The employment tribunal, which begins on Thursday, will hear Ms McDonald allege she went to her bosses at the police watchdog about the £67,000 paid to DCC Fitzpatrick when she moved to Scotland from the Metropolitan Police in London.
She believed the relocation expenses were against policy.
Ms McDonald said those concerns were never acted upon, so she then approached Audit Scotland, the body overseeing public spending.
It issued a scathing report into the SPA's finances in December and heavily criticised its "unacceptable" use of taxpayer's money.
Audit Scotland said relocation money paid to DCC Fitzpatrick and a further £53,000 to settle her tax liability in 2017 "did not represent a good use" of public funds.
It also rebuked the SPA for its poor accounting of these payments.
The BBC understands that Ms McDonald's tribunal case relates to hundreds of thousands of pounds in further payments received by other senior figures in policing from the SPA, all of which she says she raised concerns about through the body's whistleblowing policy.
However, a court order obtained by the SPA prevents the names of those senior figures from being revealed in connection with the proceedings.
Last week the BBC's application to have the order removed was refused by the judge hearing the case.
This followed a previous effort by the whistleblowing charity Public Concern at Work (PCAW) to lift the anonymity applied to the individuals.
PCAW's senior policy officer Bob Matheson said: "The question is: why have they applied for that order in the first place?"
"Is that for one of those legitimate reasons that these orders are granted or is that really just to avoid embarrassment? It's hard to see it as anything other than embarrassment."
"There's always a risk that individuals won't come forward with concerns, especially where they see examples like Amy McDonald where they've really struggled to raise their concerns and perhaps been treated badly because of that."
Labour MSP Jenny Marra told the BBC the Scottish Parliament's Public Audit Committee, which she chairs, would be seeking "answers" on the payments made by the SPA.
She said: "We'll be inviting the whistleblower in to give evidence in public to the Audit Committee as soon as this tribunal has finished and as soon as we are legally allowed to do so."
She said the SPA's new chairwoman Professor Susan Deacon "must improve transparency" and the organisation's use of taxpayers' money.
The employment tribunal will hear evidence from Ms Deacon's predecessor as SPA chairman, Andrew Flanagan, and its former chief executive John Foley, both of whom left the watchdog last year amid criticism of the organisation's transparency, governance and performance during their leadership.
They are not among the senior figures alleged to have received potentially improper payments but were at the top level of the SPA when those payments were signed off.
Both Ms McDonald and Mr Foley were part of the SPA's Senior Management Group and sat on its Audit and Risk Committee together during the period she says she raised concerns.
Ms McDonald is a qualified chartered accountant who joined the SPA as director of financial accountability in 2014.
Earlier this month, the Sunday Herald reported that Justice Secretary Michael Matheson had known about her allegations since the summer.
The Scottish government confirmed that it "received correspondence" about the case in May 2017 and then "raised" this with SPA.
Ms McDonald, who is no longer in a financial role at the SPA having moved to a position with its forensic science team, has now brought her case to the employment tribunal, arguing that she has suffered as a result of highlighting the potential financial wrongdoing.
Reporting wrongdoing
Her lawyer Margaret Gribbon told the BBC: "It will be for the employment tribunal to determine whether or not she has been penalised as a consequence of her allegations."
"Obviously it's very stressful for any individual complaining to their superiors about wrongdoing.
"It is hoped that [this case] makes things easier for other whistleblowers and that there is a culture where workers are actually encouraged rather than discouraged from reporting wrongdoing, particularly when we're talking about public funds."
Ms Gribbon also criticised the anonymity order in the case.
She said: "In circumstances where the new SPA leadership team pledged to the public to be more accountable and more transparent, it might be seen that the obtaining of this order is not consistent with those promises."
An SPA spokeswoman said: "SPA is contesting a claim made by a member of staff last year about how they were treated as a result of raising concerns about payments made to other individuals in previous financial years.
"The payments referred to in the case have already been subject to independent audit on which the SPA will publish a report in due course.
"The judge in the upcoming tribunal has agreed to the SPA's request to protect the identities of other individuals named in the case in order to protect their legal rights and as it would have no bearing on how the person making the claims was treated, which is what the tribunal case is all about."
Latest controversy
This is the latest controversy to embroil the SPA and its finances in recent months.
Last year, MSPs raised questions over whether major decisions were being made behind closed doors, with one accusing the SPA of operating like the secretive Russian Kremlin.
In its December report, Audit Scotland criticised Mr Foley, who received £100,000 when he retired last year, and his financial management of the watchdog, which reported a £16.9m overspend in the last financial year.
There was further criticism for almost £350,000 spent on two temporary staff members.
While last month Ms Marra wrote to Ms Deacon to say she was "underwhelmed by recent evidence from current board members".
"The committee still has a number of concerns for the SPA to address on its continual underperformance," she wrote.
"It is not in the public interest for the board's previous unacceptable practices to be quietly forgotten."