Scottish Youth Theatre in plan to halt closure
The Scottish Youth Theatre is working on a plan to win direct government funding and save it from closure.
Chief executive Jacky Hardacre said it was part of a proposal to get "national company" status for the organisation.
The group said last week it would close in July after failing to secure regular funding from Scotland's arts agency.
First Minister Nicola Sturgeon has pledged to explore all options for saving the organisation, which has been running for more than 40 years.
The Glasgow-based youth theatre has helped shape the careers of international stars like Karen Gillan, Kate Dickie and Gerard Butler.
The funding decision by Creative Scotland means the Scottish Youth Theatre, which costs £600,000 a year to run, has a funding gap for 2018-21 amounting to a third of its required income.
'Big changes'
Creative Scotland said limited funds meant it had not been able to support the theatre, but added that it had been working with the organisation on "alternative routes to support".
Ms Hardacre told BBC Scotland that the youth theatre had become "caught in a process", because it was required to make its funding application a year in advance, at a time when it was making big changes for improvement.
"We were still on a journey of change and we've implemented a lot of the planned changes since we put that bid in, but we've been judged on where we were 12 months ago," she said.
The youth theatre boss said she was exploring an option which would give the organisation the same national company status as the likes of the National Theatre of Scotland, meaning funding would come directly from the Scottish government rather than through Creative Scotland.
---
SYT helped shape me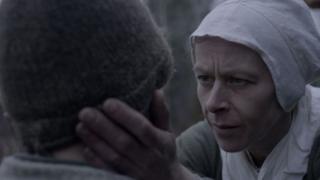 East Kilbride-born Kate Dickie believes here time with the Scottish Youth Theatre was pivotal in shaping her career.
The actress, who is best known for her roles as Lysa Arryn in TV blockbuster Game of Thrones and Jackie in the movie Red Road, said: "I'd wanted to be an actress for years. SYT brought me into a world where I realised that this could be a career.
"I feel we have to fight to keep SYT going. It's something unique to our country in bringing kids and young people from all over together, not just for acting but directing and writing.
"My teen years were spent in Newton Stewart in Dumfries and Galloway.
"It can feel like a pipe dream living in a small town wanting to be an actor, but SYT just gave it a concrete feeling that I'm going to be determined that this is what I'm going to do."
---
She said the move could also bring in new support from corporate backers, trusts and foundations.
"I really believe that status opens new doors and we're interested in whatever those opportunities are," said Ms Hardacre.
"We're not looking for just a simple handout, we want to be strategic about this.
"We've still got a bit of a way to go to earn that title but we're absolutely up and ready for that."
Ms Hardacre also said people were pledging money to keep the theatre open.
They include entrepreneur Alan Harty, who has put up the cash to allow the youth theatre's National Ensemble to tour in the summer.
"It's easy to look at this organisation as a 'nice to have', but I would argue that it is a necessity," said Mr Harty, who runs a company which helps people with financial problems.
"I spent some time with some of the ensemble this week. These are young kids ranging from 13 upwards and the immediate thing you notice is their confidence is just bubbling out of them."
Scottish Youth Theatre leaders are meeting the Scottish government in the next few days.
Ms Sturgeon has said said she sympathised with calls to save the theatre, but said ministers were not allowed to tell Creative Scotland who to fund.
Creative Scotland has said it is "fully committed to supporting access to creativity for young people", adding that 80% of organisations it regularly funds undertake work with children and young people.
There will be more on this story, including an interview with Creative Scotland chief executive Janet Archer, on Sunday Politics Scotland, at 11:40 on BBC One Scotland.