Suzanne Pilley murder: 'She was discarded and it is unbearable'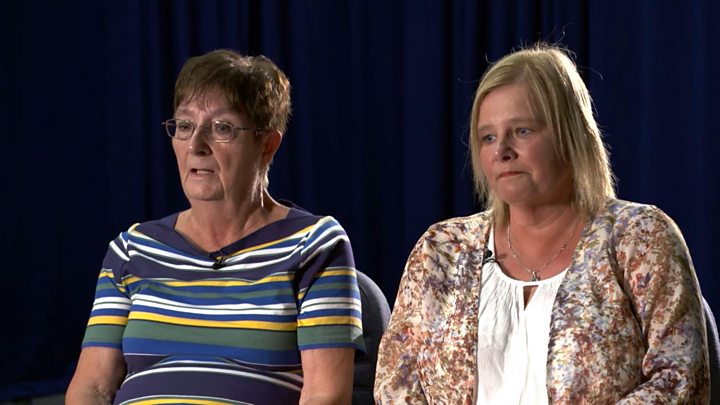 The family of a woman who was murdered and buried in a forest in Argyll have said it is "unbearable" her body was never found.
Speaking for first time since her death in 2010, Suzanne Pilley's mother and sister said they felt like she had been "discarded" and they needed closure.
David Gilroy, Suzanne's ex-lover, was convicted of her murder.
He is believed to have killed her in Edinburgh and then driven 130 miles to Argyll to dump the body.
An extraordinary police investigation tracked his movements in the smallest of detail and led to his conviction, but Suzanne's body was never discovered.
Her sister Gail said the family continued to struggle with the fact she had not been found.
She said: "It is hard to think about her because we don't know where she is. The first thought that comes into your head when she is mentioned is 'where are you?'
"It's extremely difficult to not know where she is and to not have laid her to rest.
"She was not treated with any dignity in her death. She was discarded and we do not know where she is and that is sometimes unbearable."
Her mother Sylvia said: "I feel and my husband feels as if she didn't matter and she has gone and we can't do anything about it, so we have to rely on the public."
Gilroy, a married man, and Ms Pilley were work colleagues. They had been having a secret relationship for about a year, but she had been trying to end it.
She was last seen on CCTV footage on her way to work in the centre of Edinburgh on 4 May 2010, but she never arrived.
Police believe Gilroy lured Suzanne to the basement and killed her.
He then hid the 38-year-old's body in a stairwell before later transferring it to the boot of his car.
The next day Gilroy drove about 130 miles to Lochgilphead in rural Argyll for a hastily arranged work appointment.
Police reconstructed Gilroy's trip to Argyll via CCTV and his mobile phone but there are gaps of several hours on both his outward and return journey.
The gaps are between Lochgilphead and Inveraray, where officers believe he spent time hiding her body.
Police suspected Gilroy deliberately switched his phone off between Stirling and Inveraray to conceal his movements while he did a "reccy" for a site to dispose of Suzanne's body.
They reckoned that the average time for the journey between Tyndrum and Inveraray was 36 minutes, but Gilroy took five hours.
He repeated this on his way back when he is thought to have actually buried the body.
Damage to the suspension, scrape marks on the underside of the car and vegetation attached to the car were all clues of his off-road activities near the Rest and Be Thankful.
Det Supt Stuart Houston said police had carried out an extensive number of searches in the Argyll area at the time but were keen to keep the investigation open.
He said: "We have always kept open all efforts to search for Suzanne's remains to try to bring some closure to the family to allow them to move on from what has been a harrowing eight years of their lives."
He added: "We are keen to make sure that this remains within the public's mind."
Det Supt Houston said people who lived and worked in the area were in the habit of coming forward whenever they discovered an area of earth that appeared to have been disturbed.
He said: "Whilst David Gilroy continues to maintain he is innocent, the only avenue left open at this time is a new piece of information from a member of the public.
"It is now for us to try to take it forward and appeal to people who may know something or who may have seen something.
"Now is the time to come forward to allow us to obtain some closure for Suzanne's family."