Scottish Youth Theatre to cease trading in July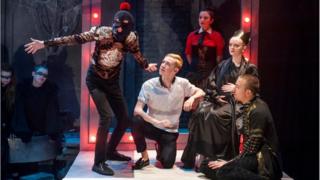 The Scottish Youth Theatre is to close this summer after it failed to secure regular funding from Creative Scotland.
Founded 41 years ago, the SYT helped shape the careers of stars including Gerard Butler and Karen Gillan.
But patrons have now been informed the funding gap for 2018-21 represents a third of its required income.
Creative Scotland said it was "disappointed" by the decision and that it was "fully committed to supporting access to creativity for young people".
The theatre group confirmed it was left with "no realistic option" but to cease trading on 31 July.
In a statement, chief executive Jacky Hardacre thanked everyone for the support, donations and offers of fundraising since the theatre failed to secure the funding.
'No option'
She wrote: "This funding gap represents around a third of our required income.
"After the news from Creative Scotland we have worked on many business models, a variety of cost cutting exercises and discussed how we can better collaborate to share costs and resources with like-minded organisations.
"However, sadly, without a realistic expectation that we would be successful in securing financial support in such a limited time to meet the significant funding gap, we are left with no other realistic option but to cease trading on 31 July 2018."
Ms Hardacre confirmed the theatre remained committed to delivering its summer programme.
She said: "We remain committed to delivering our activities up to the end of the summer period with as much energy and dedication as we always have, in a celebration of the children and young people we are so committed to serving."
The statement concluded: "We appreciate this will be devastating news for so many and thank everyone for their unswerving support in recent months.
"We urge you to stay with us through to the summer and join us in recognising the achievements of our children and young people."
The Glasgow-based theatre's patrons include Brian Cox, Emma Thompson, Billy Boyd and Alan Cumming.
Limited funding
Creative Scotland said limited funds meant it had not been able to support the group.
But it said it had been workting with the SYT regarding "alternative routes to support".
A spokesman said: "Creative Scotland is fully committed to supporting access to creativity for young people through the organisations we fund across Scotland.
"Youth arts are well represented in the network of Regularly Funded Organisations, with more than 80% of them including work with or for children and young people.
"Creative Scotland also provides extensive support for arts and young people through Open Project Funding and through multi-million pound Targeted Funding programmes such as the Youth Music Initiative (YMI) and CashBack for Creativity."