Campaigners call for improvements to local bus services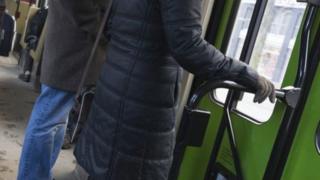 Campaigners are calling for action to create "better journeys" for Scotland's bus passengers.
A survey carried out for Citizens Advice Scotland (CAS) suggested dissatisfaction with frequency and punctuality of services in their area.
It also reported concerns about safety, cleanliness and value for money.
The Scottish government said it was helping operators "keep fares at affordable levels" and assisting local councils to support services.
CAS, which surveyed 4,600 people across Scotland, has described public transport as "a social justice issue".
Its report suggested that:
64% are either dissatisfied or very dissatisfied by the frequency of scheduled services
56% feel the same about the punctuality of their buses
58% feel that their local buses offer poor value for money
60% think fare information is not good enough
32% say the buses are not clean enough or are in poor condition
16% say there is no bus service to their local hospital or GP
CAS chief executive Derek Mitchell said: "People deserve a bus service that is reliable, affordable and pleasant to use, yet it is clear from this research that Scotland's buses often fail to meet these standards.
"The responses came from all parts of Scotland but there was a notably high rate from people in rural areas, where problems like bus infrequency are often more acute.
"Having gathered this data, CAS will now be meeting with bus companies, local authorities and the Scottish government to find ways of addressing these issues.
"Our objective here is to create better journeys for the people who rely on bus services."
'Affordable levels'
Transport Scotland said the government was continuing to spend "over £250m a year to support our vital bus industry".
It said this investment was allowing operators to keep fares at affordable levels and provide free bus travel to older and disabled passengers.
A spokesman said: "We also provide support to local authorities via the block grant so that they can support necessary bus services. They spent over £50m on bus services in 2016-17.
"Additionally, the forthcoming Transport Bill will empower local authorities by providing options to improve bus services in their areas - giving them a greater choice in how to deliver a sustainable bus network for customers, be that via partnership, local franchising or even directly running their buses.
"The Transport Bill will also bring forward measures on open data to ensure that bus operators provide the information that passengers need on routes, timetables, punctuality and fares."
The Confederation of Passenger Transport UK - Scotland said bus services should be the joint responsibility of operators and local authorities.
A spokesman said: "It is worth noting that the aspects of bus services regarded as 'most important' by respondents to the CAS survey - frequency and punctuality - are not fully within the control of bus operators.
"Journey times are dependent on traffic flow and worsening congestion is having a severe impact on bus users. It slows down journeys, damages air quality and is bad for the local economy.
"Operators are investing heavily in new, greener vehicles, smarter ticketing methods and improved customer information. To fully realise the benefits of this investment, local authorities should take action to tackle congestion and prioritise public transport."
---
On the buses: How are they doing?
by David Henderson, BBC Scotland business correspondent
How is Scotland's local bus network performing? It's sometimes hard to tell. With around 200 bus companies operating on Scottish roads, standards vary. What local campaigners want - and what bus firms deliver - are often miles apart.
Why? Buses were de-regulated by Margaret Thatcher's government over 30 years ago. As a result, almost all routes are served by private firms, which don't have to run unprofitable services. They can cherry-pick the ones they want.
By contrast, ScotRail's performance is measured in minute detail. The headline figures on performance and punctuality are published every month. Other, broader performance indicators are published every three months, which tell us if the station toilets are clean enough, and whether the public address systems are easy to hear. The result - ScotRail's under the spotlight - and if it struggles, the operator's on the rack.
So it's not ideal. It's hard to gauge the performance of 200 bus companies. But it really matters, since Scotland's buses carry three times as many passengers as ScotRail. And many passengers can't afford to drive or take the train.
Today's survey by Citizens Advice Scotland (CAS) claims many passengers are dissatisfied with their local bus service. The bus operators point to another, bigger survey by the independent group Transport Focus, which they say is much more positive.
Other data points to a quiet crisis on our local bus network. In the last five years, the number of journeys made by bus has fallen by 10%. By contrast, every other major form or transport - cars, trains, planes, even bicycles - have seen a rise in use.
Average bus fares, meanwhile have risen 18% over five years, say CAS. That's well above the cost of living - putting the squeeze on passengers. The choice of routes has fallen by 21% since 2006, according to the Traffic Commissioner.
So the Scottish government's planning a shakeup. We're told local authorities will be given power to choose how to deliver better local services - "through partnership, local franchising or even directly running the buses". The status quo, it seems, is no longer an option.
---