Rush hour delays as snow returns to parts of Scotland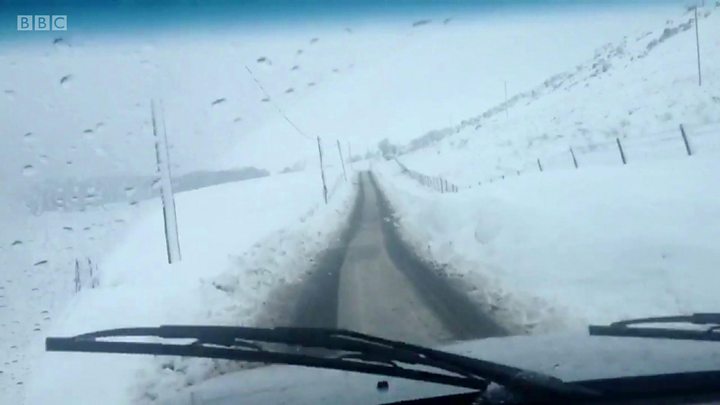 Commuters have faced delays after snow showers returned to some parts of Scotland.
Delays were reported in the central belt on Tuesday morning, including routes around Edinburgh, the M77 and the M80.
Met Office yellow warnings for snow and ice remain in place for large parts of the country until 21:00 on Tuesday.
Some rural communities are still cut off, including in the Carron Valley area in Stirlingshire.
Gritters were sent to the M77 near Newton Mearns, where heavy snowfall caused problems for HGVs and brought traffic to a standstill for most of the morning.
Largely paralysed
Heavy snow also caused very slow traffic on the M80 at Old Inns, and at Denny in Stirlingshire, while the weather also caused congestion on the Edinburgh-bound A70.
The return of wintry weather came as the country was largely returning to normal after "the Beast from the East".
The freezing conditions paralysed much of the travel network across central Scotland, causing the temporary shut down of many businesses from Wednesday afternoon into Thursday as people were advised not to drive in heavy snow.
Nicola Sturgeon and the Scottish Trades Union Congress have now agreed to draw up a severe weather charter for employers, to make clear how staff should be treated when a weather alert is issued.
It follows reports that workers were put under unreasonable pressure to get to work, or kept from going home when the severe weather hit.
More travel time
Most schools reopened on Monday after three days of closure, but Midlothian and South Lanarkshire councils said on Tuesday that schools would open later than usual to allow more travel time in the snow.
Midlothian Council tweeted: "Alert - due to snow this morning pupils should not attend for school until 11am, if possible, this morning (Tuesday). However, if already on your way, don't worry, there will be staff present."
Scottish Borders Council said that the conditions had proved a challenge for school buses in their area, although the local authority said schools were open.
Efforts are continuing to clear a road in the Carron Valley to allow food and medical supplies to be brought in after up to 30 people were trapped by snow for six days.
Stuart Ballantyne from Trossachs Search and Rescue told BBC Scotland on Monday: "We could only get about a mile from the closest house because the snow was about five or six feet deep.
"The diggers are working hard, they're working furiously, but our members have had to climb on top of that snow and then walk in, and there's fog as well, so they had to navigate across where they believed the road was towards several houses."
Stevie Coombes, a rescue volunteer who reached the residents after a two -hour trek through the snow, told BBC Scotland: "They were just happy to see us and happy to get some supplies.
"One farmer made us a flask of Bovril which was nice. They are all in pretty good spirits."
Flood alerts
Resident Norman Lynch said: "We have quite a thick fog here as well. Visibility is quite low.
"We are not able to get out with any vehicles - the road is totally impassable.
"We've personally been stuck for six days. That's the last time we could use the road with a 4x4."
A number of low level flood alerts are in place for Edinburgh, the Lothians, the Borders, Fife, Dundee, Angus, Aberdeen and Aberdeenshire.
The Scottish government said people could still expect to face "challenging" conditions in some areas.
ScotRail has said the rail network was back to running a "near-normal" service.
Deputy First Minister John Swinney said: "Conditions have improved significantly in many parts of the country but I would urge the Scottish public to remain vigilant.
"Yellow (be aware) weather warnings are still in place across all but the most westerly parts of Scotland, and in most parts ice and surface water will create challenges for drivers on some minor roads.
"The advice from Police Scotland is travel with caution in all areas, and drivers are encouraged to plan ahead and check weather forecasts."
The country ground to a halt last week as heavy snow falls prompted a red weather warning and the public were urged not to travel.
Businesses were also affected with shops and offices forced to close and employers urged to allow staff to work from home.