Figures show decline in bus usage in Scotland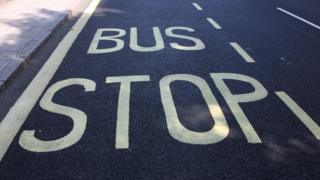 Bus passenger numbers in Scotland have fallen by 10% over the last five years, new figures show.
Official statistics from Transport Scotland show the bus being the only mode of transport to have experienced a drop in usage since 2011-12.
Over the last five years, car traffic rose by 5% and bikes by 15%. Rail, air and ferry passengers also increased.
The Scottish government said it was spending more than £250m a year on supporting usage of buses.
The Scottish Green Party and environmental groups have called for greater support for public transport to help cut pollution.
Transport Scotland's figures for the other modes of transport - rail, aircraft and boats - show that over the last five years ScotRail passengers rose by 16%, air passengers by 22% and ferry passengers by 5%.
Over the same period bus fleet sizes have fallen by 16%, while fares have increased by 5% in real terms.
However, three-quarters of all public transport journeys were still made by bus in 2016-17.
In total 524 million public transport journeys were made during the year.
Meanwhile, car traffic is estimated to have increased by 2% to 35.4 billion vehicle kilometres.
Just under a third - 31% - of journeys to work were by public or active travel in 2016, the same as in 2006.
There were 4,800 new electric and hybrid car registrations, 7% more than the previous year.
'Cleaner air'
Environmental organisations said the figures showed the need for more investment in sustainable transport.
Emilia Hanna, air pollution campaigner for Friends of the Earth Scotland, said: "The upcoming Transport Bill must make it possible for local transport authorities to have greater control over bus operations so that buses can play their vital role in reducing air pollution and climate emissions.
"We need less reliance on cars, if we are to have create cleaner air, lower climate emissions, less congestion and a fairer transport system.
"The Scottish government and local councils must make it easier for more of us to walk, cycle, and use public transport."
Transform Scotland director, Colin Howden, said the figures demonstrated there was no need for the government to scrap Air Passenger Duty - despite the plan being cited by Ryanair as reason for closing its base at Glasgow Airport.
He said: "Aviation is already massively under-taxed, paying no fuel taxes or VAT on tickets, and benefiting from duty-free sales.
"It certainly has no need for further tax cuts given its already strong growth in passenger numbers."
'Sustainable bus network'
Green MSP John Finnie said: "What's made clear by these statistics is the Scottish government's continued emphasis on promoting private car use at the expense of public transport, especially buses.
"The figures, that show a 22% rise in air travel, also make a mockery of Ryanair's claim that they've scrapped routes, and potentially jobs, from Glasgow Airport just to move them 50 miles along the road to Edinburgh Airport because the government won't cut air passenger duty."
Transport Minister Humza Yousaf said the government was committed to reducing the harmful effects of air pollution and climate change and noted the decline in bus patronage was "concerning".
He said: "Accordingly, I'm proud that this government is continuing to spend over £250m a year in grants to seek to arrest the trend and support this vital industry, allowing operators to keep fares at affordable levels.
"Additionally, the forthcoming Transport Bill will empower local authorities by providing options to improve bus services in their areas - giving them a greater choice in how to deliver a sustainable bus network for customers."
Mr Yousaf highlighted plans for Low Emission Zones in Scotland's four biggest cities, the phasing out of new petrol and diesel cars and vans by 2032 and the doubling of the active travel budget from £40m to £80m in 2018-19.