Scottish rape conviction rate drops to 39%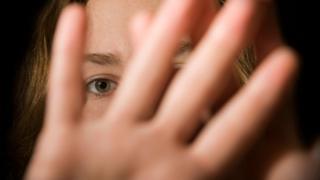 The conviction rate for rape and attempted rape in Scotland has fallen to its lowest level in eight years, according to new figures.
The latest official statistics show 39% of those taken to court were found guilty, down from 49% in the previous year.
The conviction rate is the lowest since 2008/09 when it was 37%.
The 2016/17 figures show a 16% rise in court proceedings from the previous year (251) but a drop in convictions.
Although those convicted dropped from 105 to 98, this was still double the number of a decade ago (49) when far fewer cases made it to court.
Strengthen the law
Justice Secretary Michael Matheson said: "While the relatively low conviction rate for rape reflects, in part, the challenging evidential requirements to prove this crime, the government will continue to seek to strengthen the law where possible, and how such cases are dealt with.
"Since last April judges are required to direct juries in certain sexual offence cases on how to consider evidence - specifically explaining why a victim may not physically resist their attacker, nor report an offence immediately.
"Our ongoing jury research is also examining how juries reach decisions and use the 'not proven' verdict."
Scottish Conservative justice spokesman said it was "concerning" that the figures were going in the wrong direction and it would make it harder to convince people to come forward when a rape has taken place.
Labour's justice spokesman Daniel Johnson said the figures were "cause for serious concern".
Rape Crisis Scotland chief executive Sandy Brindley said it took a great deal of courage to report a rape and the number of women coming forward had increased over the past decade.
"In a year where there were 1,878 rapes and attempted rapes reported to the police, there were only 98 convictions," she said.
Ms Brindley said the vast majority of reported rapes never made it to court.
She said it was time to look again at removing the requirement for "corroboration", which means evidence needs to come from at least two sources.
Ms Brindley added: "More needs to be done to ensure that people sitting on rape juries make decisions based on evidence, rather than misunderstandings about reactions to rape."
Convictions down
The latest Criminal Proceedings statistics also show the number of people convicted for sexual crimes fell by 11% to 1,037, the lowest in five years, although levels remain 37% higher than in 2010-11.
Overall, there was an 8% fall in the total number of people taken to court (down to 107,338) and the same percentage drop for those convicted (down to 92,334).
This was driven by a fall in conviction for speeding offences, common assault and crimes against public justice such as perjury, resisting arrest or wasting police time.
Convictions for non-sexual crimes of violence fell by 3% to 1,722 people while those with a domestic abuse element dropped by 12% to 10,830.
Custodial sentences were down 8% to the lowest level since 2007/08 with the average prison sentence length up by 26% over the decade.