University application rates from 18-year-olds in poorest areas fall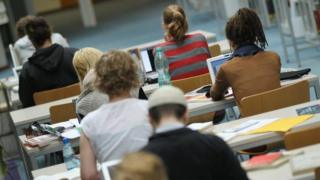 University applications from 18-year-olds who live in the poorest parts of Scotland have fallen for the first time in a decade, according to a new report.
Data from admissions body Ucas showed a drop in the number of applications was sharpest among those from disadvantaged areas.
Higher Education Minister Shirley-Anne Somerville conceded there was "more work to do".
But Scottish Conservative spokeswoman Liz Smith said the drop was "worrying".
Widening access to universities is a priority for the Scottish government.
The number of applications to universities from 18-year-olds in the most disadvantaged parts of Scotland fell from 1,970 last year to 1,900 this year, by the January 15 deadline.
The total number of applications from Scottish students aged 18 or under fell from 18,710 in 2017 to 18,000 in 2018.
The report from Ucas also noted that the application rate for people living in the most advantaged areas in Scotland had actually increased.
Analysis by Jamie McIvor, BBC Scotland education correspondent
It's not so much the level of the drop in the number of applicants from disadvantaged areas that's significant - more the fact there's been a drop at all.
It's the first time for a decade the numbers have moved in this direction and this drop demonstrates just how hard it is to make progress.
Universities already run a number of schemes to help attract applicants from disadvantaged areas and recently they produced an action plan.
For instance, they will pay less attention to exam grades when it comes to deciding who should be offered a place and look more at the individual's qualities, experience and potential.
But there are other factors to consider too, including raising attainment in schools and encouraging youngsters and parents who come from backgrounds where university may not seem like a natural option.
It may seem trite to say this, but persuading a youngster with no friends or relations who have been to university that it may be a place for them is not always easy.
Role models and outreach schemes can be hugely important.
It is worth bearing in mind that ultimately what matters is how many youngsters from disadvantaged areas get into university - not how many apply. It is still possible the number who actually get in this year will rise.
But the long term targets won't be met unless applications rise too.
International students
The figures also showed a 1% rise in the total number of applications to Scottish universities, with a 1% decrease in the overall number applying to UK institutions.
Meanwhile, the number of applications to Scotland from international students from outside of the EU increased by 13%.
Ms Somerville said: "While it is good to see Scotland's universities outperforming those across the UK, it is also vitally important that we continue to drive forward our ambition to widen access to university for people from our most deprived communities.
"In 2017, we saw a 13% increase in the number of people from the most deprived communities getting places to study at university.
"Today's application rate shows that there is more work to do if we are to see a similar increase in 2018."
She added: "Universities must do all they can to promote the opportunities available for learners from our most deprived backgrounds and to make them aware where there is still a chance to apply before the 30 June deadline.
"It is equally important that universities push ahead with the implementation of minimum entry thresholds so that the potential of those who do apply is recognised fairly within the application process."
'Particularly worrying'
But Tory education spokeswoman Ms Smith, said Scotland's future prosperity and the success of its young people depended on a thriving university sector.
She said: "Given the financial constraints under which universities are operating and the resulting pressure to increase the number of fee-paying students, it is perhaps not surprising to see the growth in the number of international applicants.
"At the same time, it appears that the number of Scots domiciled students applying to university has started to flatline.
"It is particularly worrying to see a drop in the number of students applying for Stem (science, technology, engineering and mathematics) courses and a drop in the number of Scottish students applying to university from disadvantaged backgrounds."
Scottish Labour's Iain Gray told BBC Radio Scotland's Good Morning Scotland programme: "If you come from one of the more affluent families as a youngster you are three times more likely to go to university - so the gap is still enormous and it is very worrying this year to see the trend has reversed and indeed that gap has widened at least when it comes to applications for university.
"It is the case that people from poorer families are less likely to apply to university, if they apply they are less likely to be successful and if they are successful and go to university they are still less likely to see the course through."
Student support
The National Union of Students Scotland described the figures as "deeply concerning".
Education spokeswoman Jodie Waite said: "The Scottish government has, rightly, made widening access a priority. But we know that some institutions just aren't pulling their weight. That needs to change. We need to see concerted action - from all institutions - to boost admissions from those from poorer backgrounds.
"We know that the current system of student support is broken - forcing the poorest higher education students into the most debt, and giving further education students no guarantee of support.
"That's why, as part of this budget, we're calling on the Scottish government to commit substantial new investment to deliver a world-class financial support system to match our world-class education system."