'My wife died because of boy racers'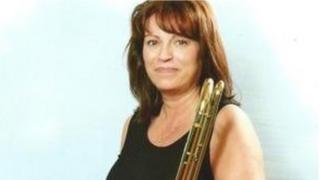 Colin Price's wife of 27 years went out to band practice one Monday night a year ago and was killed when two young drivers raced at speeds in excess of 100mph along a stretch of dual carriageway.
The 20-year-old man whose car crashed and hit Joan Price's car on the other side of the road was jailed last year after admitting death by dangerous driving.
But now 19-year-old John Gribben, the second man in the race, has also been convicted of causing death by dangerous driving, even though he did not crash.
Mr Price, from Troon in South Ayrshire, told BBC Scotland that both drivers were equally responsible for his wife's death.
He says: "It takes two people to race.
"The person whose car actually hit Joan's would not have been driving at that speed, in that manner, if he wasn't racing with someone."
Mr Price said the witnesses in the court case had said that it was "an accident waiting to happen"'.
"Joan was in the wrong place at the wrong time but somebody was going to cop for it that night the way the boys were driving," he says.
Mr Price and his wife have three children and three young grandchildren.
"Joan was very family orientated," he says.
"Family was the centre of her life."
Fifty-nine-year-old Joan, who had played the trombone since she was very young, was returning from band practice with her friend Gillian when her car was hit head-on by Knox's Volkswagen Golf on the A77 near Holmston roundabout.
Mr Price says he was stunned when the police called to tell him about the accident.
"I remember at the time asking if the person in the other car had been injured," he says.
"The policeman said they had fled the scene which was another shock to me."
While Joan is believed to have died at the scene, her friend had to be cut free from the vehicle.
Mr Price says he is amazed that those involved in the crash did not try to help.
"You would like to think that in the circumstance anyone's immediate reaction would be to help, not to run away," he says.
Dozens of witnesses did stop to help, which Mr Price says restored his faith that there are many "good people" .
His wife's death has had a massive effect on friends and family, Mr Price says.
"It hit me hard at first but I tried to go back to work for some sense of normality," he says.
"Inside, where no-one can see, I'm still heartbroken."
"You learn to cope with losing someone but you are still missing them very much.
"It'll never end. Every day we miss Joan."
Mr Price says the court case had not brought him much comfort.
"Joan has gone. The verdict does not bring her back," he says.
His hope is that the case will make young people think before driving dangerously.
"The best memorial in Joan's name would be that there are no more deaths by dangerous driving on the Scottish roads and no other family has to go through what we've been through in the last year," he says.