Shetland radar base 'nearing completion'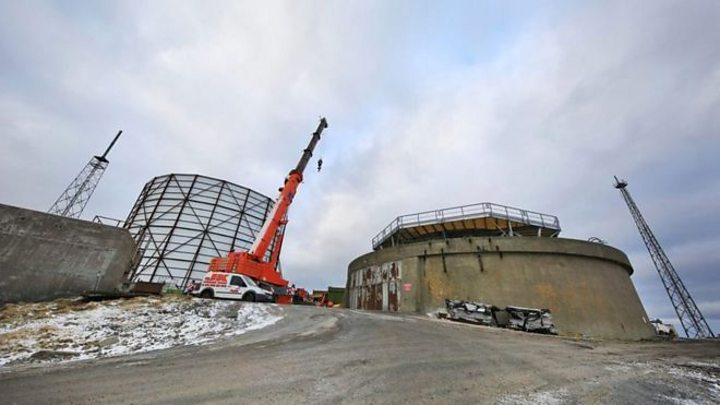 A new RAF radar facility that will track Russian military aircraft approaching the north of the UK will be operational soon, the MoD has said.
The £10m Remote Radar Head facility is being built at Saxa Vord on the island of Unst in Shetland.
It will provide key information on aircraft movements across the North Sea and feed the Quick Reaction Alert (QRA) operation.
The latest QRA launch last week saw RAF Typhoons intercept two Russian bombers.
The RAF monitored the Russian Blackjack jets as they passed through international airspace, before the Typhoons from RAF Lossiemouth escorted them out of the UK's area of interest.
The Russian aircraft, which had not responded to air traffic controllers, did not enter UK sovereign airspace.
There have been 59 QRA launches in the past five years.
The MoD said the new radar base would improve RAF and Nato understanding of the airspace north of Britain and further out across the Norwegian Sea at a time of increased Russian military activity.
It will see Unst return to the role it performed during the 1960s and 70s, when the site was used as an early warning radar on Nato's northern flank.
The facility will be operated remotely by RAF personnel, with contractors only attending the site for maintenance.
It was visited on Friday by Air Chief Marshal Sir Stephen Hillier, the head of the RAF, who paid tribute to the construction team who had been working at the remote site throughout the winter.
He said: "The radar system at Saxa Vord is an important part of ensuring that the RAF can fully protect both the UK's airspace and that of our Nato allies, in the face of increasing pressure from Russia.
"Right at the tip of Shetland, Saxa Vord is a very remote site, so I'm extremely grateful to the team who have been working hard through the cold of winter, with snow and 120mph gales, to ensure that the construction has remained on schedule."
He was speaking as UK Defence Secretary Gavin Williamson warned in the Daily Telegraph that Russia could cause "thousands and thousands and thousands of deaths" by crippling UK infrastructure.
Mr Williamson said Moscow was spying on energy supplies which, if cut, could cause "total chaos" in the UK, adding that it was the "real threat" faced by the country.
Head of the British army, Sir Nick Carter, has warned that the UK is struggling to keep up with Russian capabilities.