Hundreds of jobs set to go at Cameron House Hotel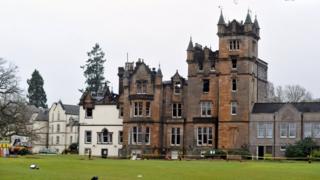 Cameron House Hotel in Loch Lomond is planning to shed hundreds of jobs following last month's fire which claimed the lives of two guests.
BBC Scotland has learned that a total of 300 posts out of 450 are at risk, including 150 staff on zero hours contracts.
The latter have already been told there will be no work in the short term.
On Thursday, staff were told at a meeting at Dumbarton Football Club a consultation process would be launched.
The hotel's remaining 150 employees - including golf course, marina and ground staff - are unaffected.
Simon Midgley, 32, and Richard Dyson, 38, died in the blaze which broke out a week before Christmas and left the hotel badly damaged.
Investigations into its cause are continuing.
First Minister Nicola Sturgeon has pledged that any lessons which emerge from the probe will be learned.