Scotland's railway stations to offer drinking water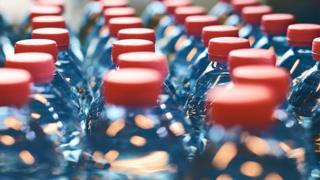 Two of Scotland's busiest railway stations are to have free drinking water fountains installed.
Owner Network Rail intends to provide facilities at Glasgow Central and Edinburgh Waverley in the coming months.
The move will allow commuters to refill their own bottles on the go without having to purchase expensive bottled water from station stores.
The introduction is seen as a positive step by environmental campaigners who want to see more such facilities.
A spokesman for Network Rail said: "We are supportive of having water fountains in our managed stations and will be looking to see how we can take this forward."
A study by Recoup, a charity promoting plastics recycling, revealed that the average UK household uses nearly 500 plastic bottles a year, but only recycles just under 290 of them.
Keep Britain Tidy has researched the barriers to members of the public using reusable water bottles as an alternative to single-use plastic water bottles.
The survey into free drinking water highlighted that 40% of respondents purchase bottled water in addition to carrying a reusable bottle when travelling long distances.
The group has called on transport hubs to improve access to free drinking water for the public when travelling.
'Re-fillable approach'
Scottish Water has announced that it also is exploring the possible introduction of water refilling points in public places. It has urged its urged its five million customers to opt for the re-fill route.
Brian Lironi, Scottish Water's director of corporate affairs, said: "We deliver more than a billion litres of fresh and clear drinking water around the clock every day to our customers. It's readily available at tap - the re-fillable approach makes so much sense in terms of convenience, cost and sustainability."
Environment Secretary Roseanna Cunningham said: "This is a great campaign and I encourage everyone to make the switch to reusable bottles whenever possible.
"We all have a role to play in changing Scotland's throwaway culture and we all stand to benefit - by protecting our environment and saving money too."
In England, a similar scheme which started in Bristol is being rolled out across the country.