Big losers but arts funding avoids 'cultural carnage'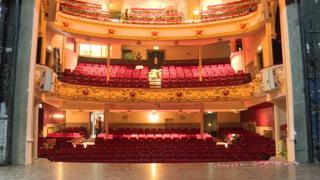 The "cultural carnage" predicted for the latest round of arts funding did not arrive but a big shake-up of who receives the money has led to some high-profile losers.
Before Christmas, Creative Scotland was advising all arts organisations to batten down the hatches and prepare for up to 30% cuts to funding.
In the event, the Scottish government stepped in with a £6.6m increase to maintain the arts funding at £99m over three years and cover the substantial shortfall in the National Lottery cash.
Given this reprieve over the amount of cash it can spend, Creative Scotland could have played safe.
It would have been easy to keep all the same 117 organisations at a funding standstill and not changed who it gave its cash to.
But they have not done that.
Instead 19 new organisations are on its list and regular funding was cut completely to 20 others, including the Edinburgh Fringe and Ayr's Gaiety theatre.
Those new to the list include dance company Bodysurf who are based in Moray - and the Alchemy Film Festival in the Borders.
Toonspeak - who specialise in working with young people in theatre are on the list for the first time, as are Starcatchers who work with an even younger audience -babies and toddlers.
There are also several administrative bodies - Creative Edinburgh, Creative Dundee and the Federation of Scottish Theatre - who have been given regular funding for the first time, the argument being that they can reach a wider number of organisations than one single production.
Some have even had a slight increase in funding - among them the Lyceum in Edinburgh, the Stove in Dumfries and Barrowland Ballet, which is based in Glasgow.
But for most organisations, 62 in total, it is standstill funding which, in real terms, will mean scaling back on their activities.
A number of organisations face substantial cuts in their funding.
Eden Court in Inverness faces a 28%, which combined with a potential drop in its local authority support, means the first task for the new CEO, who takes up post in February, will be to review the theatre's activities and operations.
However, for 20 companies their Creative Scotland funding has gone completely.
They include some high profile names - Ayr Gaiety, Edinburgh Festival Fringe Society, UNESCO City of Literature, NVA, Birds of Paradise, Catherine Wheels, Visible Fictions and Lung Ha's.
Creative Scotland insists it cannot discuss the individual reasons for applications being turned down, but it seems many of the theatre companies will be eligible to apply for a £2m fund for touring work.
Others - like the Fringe Society - receive only a small proportion of their funding from Creative Scotland, and perhaps the implication is that they should rely more on their major sources, in the Fringe's case, the City of Edinburgh Council.
But therein lies the concern for many arts organisations.
Most local authorities face making some serious cuts in the forthcoming financial year.
Stirling Council has already launched a consultation into where it should make savings with both Sistema Scotland and the Smith Art Gallery and Museum offered as potential areas for saving.
Other councils have done the same.
The message is clear: we can't fund everything at the current levels, so you must choose what we cut back on.
For Ayr Gaiety, it is something of an irony.
A recent commitment from South Ayrshire Council is not enough without match funding from Creative Scotland to sustain the programme they have been presenting since 2015 when they were first given regular funding.
They say they will have to review the volume of productions and focus on "commercial success" rather than new work.
Like all the organisations on the list, they'll have access to transition funding as well as being given assistance to seek new sources of funding in the months ahead but, in the current climate, that will be no easy task.