'You should be proud of your scar'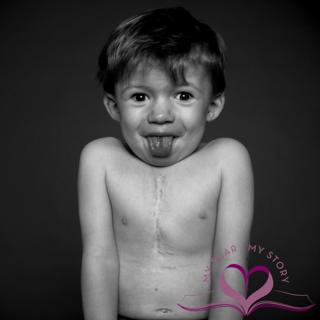 "People don't really know that it happens at such a young age. We came about it at a 20 week scan."
Ashley-Liv Pendleton's son Harris was born with a congenital heart defect (CHD).
After diagnosis, the pregnancy was closely monitored. After an induced labour, Harris was taken for surgery.
He has now had two major operations, leaving him with a long scar on his chest.
A professional photographer based in Edinburgh, Ashley is now helping Harris and other children with CHD to feel proud of their scars through an exhibition called My Scar, My Story.
'This is me, this is my scar'
CHD affects 4,000 children in the UK each year - 10% of them die before school age.
Ashley wants to increase awareness of CHD, but also empower the children to take ownership of their scars.
"You should be proud of your scar, and you should be proud of how far you've come, and what you've overcome," she tells them.
"A lot of the boys, they're really proud of their scar and they want to show it off. But there are girls who are a little bit more self-conscious.
"But we just want them to say no this is me, this is my scar, I'm proud of it and I will show it off and make people aware that this happens."
The power of photos
Ashley photographed 31 children for the exhibition, with scars of many shapes and sizes.
The biggest scar she saw drew a line from the girl's collar bone to her belly button.
"You've got to think, yes she's small now, but she is going to grow up to an adult and she's going to be having that scar in the middle of her chest," she said. "So we're empowering her now saying this is amazing, be proud of it."
The exhibition will raise money for charities which help children with CHD. Ashley thinks photos are the best way of convincing people to dig deep.
"I think it's powerful. Just seeing their personalities and their little faces. It's easy enough to read about it and and hear about it, but when you actually see an image it's more powerful because you go, oh gosh, he's so small, or that scar is so big. It makes a big impact."
The photos will be displayed beside a description of each child's experience.
On the opening night there will fundraising events, with money raised going to the British Heart Foundation, Beads of Courage and Glasgow Children's Hospital Charity Ward 1E.
My Scar, My Story will be exhibited at the Image Collective Gallery in Leith. The opening night event will be on Saturday 10 February from 18.30 to 21.30.