Disruption as heavy snowfalls hit Scotland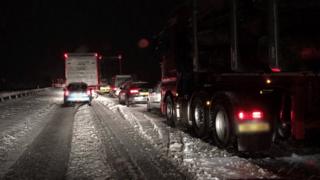 Heavy snowfalls have been causing disruption as wintry conditions sweep across large swathes of Scotland.
Traffic between Scotland and England has been affected, with closures on the M74 in both directions.
Traffic Scotland said gritters were working to make the motorway safe enough to fully reopen. Police Scotland has advised motorists to avoid the area.
Some drivers complained of being stuck in traffic for several hours.
On the Isle of Skye, the main road - the A87- was blocked for several hours in both directions by a jack-knifed lorry.
The closure meant two school buses with pupils who had been stuck for hours had to return to Portree High. The school said they would be put in temporary accommodation for the night.
The Met Office has issued an amber alert for south west Scotland, extending to parts of the central belt, lasting until Wednesday morning. Thundersnow was also forecast in the west.
Earlier on Tuesday evening, all three lanes on the M74 southbound at J12 Millbank were closed. One lane later re-opened but traffic was again halted as conditions worsened. Police advised drivers to follow the gritters and said the delays would take some time to clear.
A subsequent accident at J15 Beattock led to closure of the northbound carriageway.
Traffic Scotland apologised to those stuck in the queues.
Motorist Nigel Cliff, who was heading south, told BBC Scotland at about 19:00 that he had been stationary on the motorway for about an hour and a half.
"It's pretty rough," he said. "It's snowing again now so it is probably only going to get worse. There are cars and lorries just sitting here - nothing moving."
Mr Cliff said he was prepared for the conditions: "I've got food. I've got big thick coats, big thick socks. My wife always makes sure I've got everything in the car."
Transport Minister Humza Yousaf tweeted that a number of HGVs had "lost traction with challenging weather impacting on M74".
He added: "Necessary to close the junction to get additional gritters and equipment to the scene."
Police Scotland said anyone taking to the roads in the worst affected areas was "highly likely" to experience disruption, and urged drivers to consider carefully if the journey was necessary.
A Multi Agency Response Team (Mart) is now operational to monitor conditions. The deputy first minister and transport minister also chaired a meeting of the Scottish government's resilience operation to receive an update on the situation.
Transport Minister Humza Yousaf said: "The Met Office has upgraded its snow warning for parts of south west and central Scotland, with the areas affected by the amber warning set to see heavier snowfalls and greater disruption to transport.
"The snow and ice is likely to lead to difficult driving conditions, so I'd urge all travellers to take extra time and plan their journeys in advance. The high winds forecast for later in the week may also see some bridge restrictions."
The Met Office amber "be prepared" warning - which means transport and power supplies may be disrupted with a potential risk to lives and property - was issued from 15:00 on Tuesday until 08:00 on Wednesday and also extends across much of Northern Ireland.
The Northern Ireland Ambulance Service said crews had attended 12 crashes as a direct result of the poor conditions and at least 13 schools were closed.
Some high ground was likely to see 15-25 cm (6-10 inches) of snow building up, especially above 200-300m, with 5-10 cm (2-4 inches) more typical at low levels throughout the warning area.
Yellow warnings of snow are likely to remain in place across most of the country until late on Friday.
Western Isles Council cancelled all bus services to and from Stornoway from 19:00 due to risk from snow and ice.
Across Scotland more than 100 schools and nurseries were closed on Tuesday, with more than 10,000 pupils missing classes.
In the Highland council area, the weather affected 13 secondary schools, 53 primaries, two special schools and 26 nurseries. About 8,900 pupils had an unexpected day off classes.
Dumfries and Galloway Council said 20 schools were closed due to weather problems or heating failures. Some schools also closed in the East Ayrshire and Stirling Council areas.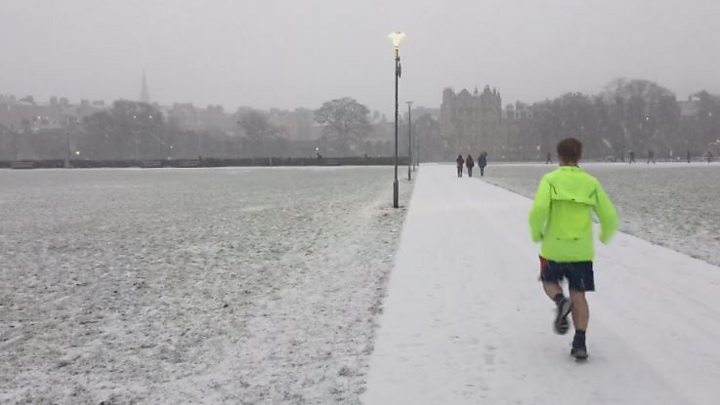 In North Lanarkshire, all prelim exams for secondary pupils were postponed due to transport problems and all cafes in council leisure and culture buildings were shut.
South Lanarkshire Council closed 18 schools and nurseries throughout the day.
A number of airports were affected by the wintry conditions, with Inverness airport closed for most of the morning.
Flights in an out of Aberdeen were also disrupted and Glasgow airport was briefly closed while the runway, taxi and passenger routes were cleared.
Police Scotland urged drivers of heavy goods vehicles to exercise extreme caution, and warned they may be asked to park up by officers.
Head of road policing, Ch Supt Stewart Carle, said: "Winter driving is a question of common sense and drivers should ask themselves if they really need to travel when conditions are poor.
"No-one should ever place themselves at risk on the road and it may be worth considering postponing your journey or making alternative arrangements such as delaying travel until conditions improve or using public transport.
"If you are travelling on the roads you should ensure you and your vehicle are adequately prepared for the conditions, making sure you have sufficient fuel and supplies such as warm clothing, food and water in the event you are delayed for several hours.
"Charge your mobile phone and plan your route as well as alternative routes. Listen to media broadcasts, especially local radio, and visit the Traffic Scotland website."