Ofcom to assess plans for new BBC Scotland channel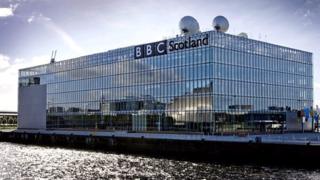 Broadcasting regulator Ofcom has said the BBC's plans for a new TV channel for Scotland have the potential to harm "fair and effective" competition.
The watchdog said it needed to make a full assessment of the plans before deciding whether to give approval.
The BBC announced proposals in February 2017 for the new channel, which was expected to begin broadcasting in the autumn of 2018.
Ofcom said it would publish its final decision by 11 July.
The BBC published plans for the channel, to be called BBC Scotland, in November. They included:
A programme budget just over £32m per full year
A news programme (shown at 21:00 on weekdays) covering "international, UK and Scottish stories, told from a Scottish perspective", with shorter bulletins at weekends
New programmes that reflect Scottish life, including the opportunity to premiere some new comedy and drama
It is proposed that the new channel will take the place currently occupied by BBC Four on electronic programme guides in Scotland.
The corporation's own governing board found that the channel passed its Public Interest Test.
However, the regulator described the BBC's plans as a "material change" in the public services offered.
Ofcom said it had had taken comments from 17 stakeholders, many of whom welcomed the new channel.
But questions were raised about whether or not the channel was adequately funded, with others criticising a "lack of detail" and the potential to "crowd out competition".
Ofcom said: "We consider that the points above raise concerns and issues which are sufficiently significant to justify conducting a BCA (competition assessment).
"Furthermore, we consider the activities proposed by the BBC, taken together, comprise a single proposal to carry out a new UK Public Service.
"We do not consider that the aspects of the BBC's proposal giving rise to our concerns can be clearly separated from an assessment of the overall proposition."
They added: "The BCA process will involve market research and economic analysis and we will take account of the stakeholders responses we have already received."
The BBC said it had anticipated a commercial assessment.
A spokesman added: "We welcome Ofcom's decision to scrutinise the proposal for the new channel and we look forward to contributing to the consultation exercise."