Study seeks to protect key sites from coastal erosion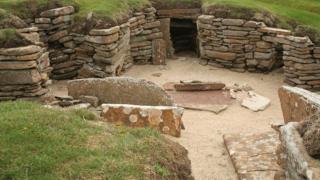 Researchers are investigating ways to protect Scotland's coastline against the effects of climate change.
The study will use 3D mapping to work out how to protect locations such as Montrose Bay, St Andrews and Skara Brae from coastal erosion.
Ministers say sea level rise is causing the pace of erosion to increase.
The first phase of the Dynamic Coast project, managed by Scottish Natural Heritage, found a fifth of the nation's coast is at risk.
Glasgow University's Prof Jim Hansom, who is leading the Dynamic Coast study, said it would help identify how effective coastal defences were against erosion.
He said: "That will allow strategic decisions to be made about whether to spend money on refurbishing the defences, renewing the defences, or a completely different type of defence strategy - perhaps importing sand to bolster the beach, or some locations may require removal of the assets that are being threatened by coastal erosion."
Beaches and dunes protect £13bn worth of buildings and roads - more than twice that protected by seawalls.
The next phase of Dynamic Coast, to last two years, will use the latest monitoring techniques to map and categorise the resilience of the Scottish coast and identify the links between erosion and flooding.
Environment and Climate Change Secretary Roseanna Cunningham said rising sea levels had caused "substantial damage" to Scottish coastlines and the pace of erosion was increasing.
"This research will forecast the extent of damage that could be caused to our precious coastlines through the effects of climate change and will work with communities, local authorities, transport agencies and other planning bodies to develop plans to manage coastal change before it's too late," she said.