A&Es fail to meet waiting time target for December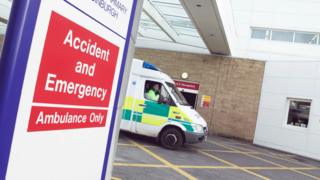 Scottish Accident and Emergency units failed to meet waiting time targets in December as the number of patients increased.
The latest figures show that during the week ending 24 December, 83.3% of patients were seen within four hours.
This falls short of the 95% target set by the Scottish government.
During the week ending 17 December, 81.1% of patients were seen within four hours, the lowest figure since records began.
There was a 20% increase in attendances during the week ending 25 December compared to the same week the previous year.
Concern over the shortfall has led some health boards to take action. The newly-opened Dumfries and Galloway Royal Infirmary has announced it has moved to "red status", with some outpatient clinics being suspended to meet demand.
NHS Lanarkshire has asked patients not to visit A&E unless "absolutely necessary". The health board missed the 95% target for every week in December.
It has also redeployed some of it's office based staff to help with administrative and cleaning duties in its hospitals and GP practices.
Calum Campbell, chief executive of NHS Lanarkshire, explained: "This is an unparalleled situation in Lanarkshire and exceptional circumstances need exceptional measures to enable us to deliver our number one healthcare priority - patient safety.
"We asked our office-based staff to consider volunteering to suspend their day-job to support their clinical colleagues. Not surprisingly, we've had a tremendous response which demonstrates the strong team spirit that exists within the NHS."
'Doing fantastic job'
Health boards have attributed the rise in demand to acute seasonal illnesses, with the rate of GP consultations for flu and respiratory infections rising by more than a quarter during the period.
The Scottish Ambulance service said it had experienced "exceptionally high" levels of demand across the country throughout the festive period.
Calls classed as life threatening were 52.5% higher than last year and overall demand was 9.5% higher.
Chief executive of the service, Pauline Howie, said: "The festive period has been a challenge for the service but despite this, our median response time to cardiac arrest calls was five minutes and 37 seconds.
"Yet again, staff in our control centres, on the frontline, support staff and volunteers have showed what an incredible group of dedicated people they are."
Meanwhile, separate monthly statistics show that during November, 93.3% of people were seen within the four-hour target.
The figure is down slightly from 94.4% in October and 93.6% in November 2016.
Health Secretary Shona Robison said: "Our NHS and community health service do a fantastic job all year round but there is no doubt that winter can bring additional demands, and I'd like to thank them once again for the dedication they have shown during this busy winter period.
"We're working with boards to help them cope with pressures and this year alone we have invested £22.4m to create extra resilience across the system."
---
What's happening in your area?
NHS Lanarkshire - It reiterated its message for people not to attend A&E, unless requiring urgent treatment. In addition, the board has postponed non-urgent elective procedures for the remainder of this week. To help ease the burden, staff who would normally be office based have volunteered to be re-deployed at hospitals and GP practices in administrative and cleaning roles.
Dumfries and Galloway - The emergency departments new Dumfries hospital has been dealing with a high volume of patients resulting in the suspension of some outpatient clinics and the postponement of some elective surgeries.
Forth Valley - So far no planned operations have been postponed, but A&Es have been "very busy". Increased admissions have been due in part to sicker patients and freezing weather earlier in December led to an increase in people injuring themselves in falls.
Grampian - Fourteen routine procedures were postponed last week due to pressure on the system. However, at this time of the year fewer elective procedures are scheduled in anticipation that there will be increased demand.