Scientists use app to prevent landslides
By Kenneth Macdonald
BBC Scotland Science Correspondent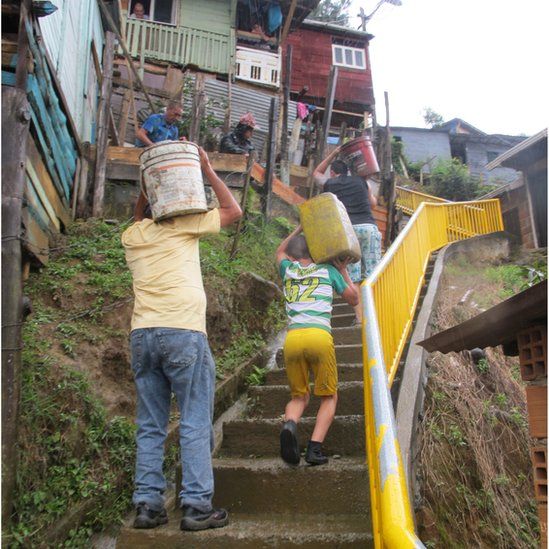 A team of researchers based in Scotland is using digital technology to help prevent landslides in Latin America.
They have enrolled people living on a hillside in Colombia to act as "community researchers" to spot the warning signs.
The idea could become a global blueprint for landslide detection.
Medellin is Colombia's second-largest city. It is surrounded by hundreds of informal settlements - what were once called shantytowns - many of them in the foothills of the Andes.
The Edinburgh-based team is working with people living in one of them. They live with the threat that their homes will be carried away by a landslide.
Which is why, after it rains, many emerge from their homes with their mobile phones.
They are looking at specific points and angles to see how the land has reacted to the downpour.
They are working with Dr Gabriela Medero, a civil engineer at Heriot-Watt University in Edinburgh.
She explains they have been asked to take photographs in three distinct time periods.
"Just after the rain stops, a number of hours after the rain stops, and 24 hours after," she says.
"Because we want to see how, potentially, there are changes, movements, settlements caused because of the rain.
"A large quantity of water entering this ground very quickly can cause instability and any localised instability could trigger a larger movement of soil that could be a landslide."
The photos are uploaded to a WhatsApp group so the experts in Scotland and Colombia can assess the risk.
It means appropriate action can be taken without creating panic.
It sounds simple but it has been a complex process.
The project involves two universities in Edinburgh, the University of Colombia and the local community researchers.
The director of the Centre for Environment & Human Settlements at Heriot-Watt, Dr Harry Smith, says it has not been a top-down approach.
Instead there has been intensive dialogue among the stakeholders to establish what will work in this particular community.
It is what they call a "dialogue of knowledges".
"One of the things that was very important was to acknowledge that there are different types of knowledge," says Dr Smith.
"There's the academic knowledge, there's the knowledge the community have of what happens in the community and what they can see every day - and they're very conscious of the need for a dialogue of knowledges which brings in all of that.
"As well as the knowledge we can bring in from local government, because that's the other stakeholder."
But there's more to this project than watching for the warning signs.
The people who live on the hillside have learned how to be proactive in lessening the threat from heavy rain.
Dr Medero adds: "Water that is coming from a roof, if it is entering the ground without control, is a problem.
"So what to do is have pipes that will channel this water ... that will link to the central drainage system.
"Even residents who had not taken part initially have begun to follow suit. Gutters have become must-have items.
"This all helps because we wanted as much as possible to reduce the water that was being absorbed by the ground."
In April 2017 a landslide in the Colombian city of Mocoa killed more than 250 people and left hundreds more missing.
That made the headlines, albeit briefly. Other, smaller tragedies claim hundreds more lives across Latin America.
The team says what has happened on this hillside in Medellin is empowering the local community. So could the model be applied elsewhere?
They are reluctant to call it a model because that implies a one-size-fits-all, top-down approach. But they're confident similar initiatives could work.
The next steps include developing a dedicated app for gathering the data, and new projects involving communities elsewhere in Colombia and in Brazil's biggest city Sao Paolo.
Dr Soledad Garcia-Ferrari, a senior lecturer in architectural design at Edinburgh University, has been involved in fostering research collaborations between universities and communities in Colombia.
She believes the approach has the potential to help communities across the world.
"I think it could go very far, as long as we can adapt this model to different situations," she says.
"We can't just simply use the model for another case, but it is possible to understand the principles of this model and to understand the characteristics of each particular place, to adapt that model to those specific needs.
"Potentially we could think about how to use that model to empower communities - even in other regions like Scotland."