Universities pilot plan for easier foreign student visas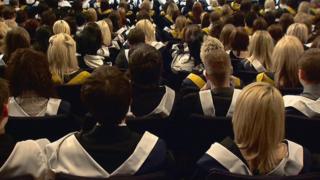 Two Scottish universities are to take part in a pilot scheme which should make it easier for some foreign students to get visas or find permanent work in Britain.
Glasgow and Edinburgh are among 23 universities which will join the plan for Masters students with others joining as quickly as possible.
The pilot will streamline the process for courses of 13 months or less.
International students will apply for so-called Tier 4 visas.
Students from countries within the European Union and European Economic Area do not need visas to study in the UK although it is still not clear what position they will be in after Brexit.
However, students from, for example, the United States and the Far East could benefit from the pilot scheme.
'Highly competitive'
The scheme is already running at four English institutions.
The UK government says the pilot also provides greater support for students who wish to switch to a work visa and take up a graduate role as it allows them to remain in the UK for six months after they have finished their course - compared with four at present.
The universities taking part are given responsibility for eligibility checks which means that students can submit fewer documents than required in the current process alongside their visa applications.
Applicants who do not meet immigration rules will be refused.
All students will continue to require Home Office security and identity checks.
UK Immigration Minister Brandon Lewis said: "I am delighted to announce the expansion of this pilot which is part of our ongoing activity to ensure that our world-leading institutions remain highly competitive.
"The UK continues to be the second most popular destination for international students and the number coming to study at our universities has increased by 24% since 2010.
"This is a clear indication that genuine students are welcome and there is no limit on the number who can come to study in the UK."
Secretary of State for Scotland David Mundell added that the changes would make it easier for foreign students who wanted to study in Scotland and would help Glasgow and Edinburgh universities to attract the brightest and best.
'Welcomed and valued'
Glasgow and Edinburgh both welcomed their inclusion in the pilot.
The University of Edinburgh's senior vice principal, Charlie Jeffery, said: "Almost three thousand of our international students stand to benefit from our participation in the scheme, which will enable them to either further their study or pursue their entrepreneurial ideas, and add to the UK's pool of high-value graduate talent."
Principal and vice-chancellor of the University of Glasgow, Prof Sir Anton Muscatelli, said: "Glasgow is a global institution ranked within the top 100 universities in the world and it is vitally important that international students continue to feel both welcome and valued when coming to our campus. "
The Scottish government said it was pleased two Scottish universities would be included in the pilot scheme but was disappointed it had taken over a year for them to do this.
The Minister for International Development and Europe, Dr Alasdair Allan, said: "We urge the UK government to roll out these modest changes to the Tier 4 route to all universities as soon as possible.
"We remain concerned at the UK government's emphasis on visa refusal rates as the basis for including institutions in the pilot, as this can unfairly discriminate against smaller or more specialist institutions."