Scottish A&E bucks trend on long waits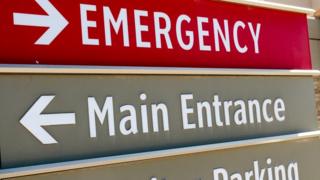 Fewer patients in Scotland are waiting longer than four hours in A&E than they did in 2012/3 in contrast to England where the number has more than doubled, according to new research by the BBC.
It found England had a 155% rise in long waits between 2012/3 and this year, up to 2.5 million a year.
Hospitals in Wales and Northern Ireland also saw an increase over the period.
In Scotland, the number of patients waiting more than four hours fell by 9% to just over 100,000.
The statistics show the total number of visits to Accident and Emergency departments in Scotland increased slightly to 1,629,426 in the year to November.
NHS targets give hospitals four hours in which to treat and discharge or admit or transfer a patient.
They are expected to do that in 95% of cases.
If you can't see the NHS Tracker, click or tap here.
Scottish A&Es were the closest of the UK nations to hitting the 95% target, managing to deal with 93.9% of cases within four hours - up from 93.2% in 2012/3.
In England, there were almost 1.7 million more patients attending A&E than four years ago, a rise of 7.8%.
Only 136,364 extra were treated within the four-hour target, meaning almost 1.6 million more patients were outside the limit.
As a consequence, England went from meeting the 95% target in 2012-13 to reaching just 89.1% in the latest data.
Some English regions were closer to the 95% target, such as the North East with 94.4%.
Wales was already missing the waiting time target in 2012/13, seeing 89.1% of patients within four hours. This fell to 82.6% in 2016/17.
Northern Ireland was also already missing the waiting time target in 2012/13, seeing 77.6% of patients within four hours across the period. This fell further to 75.6% in the latest 12 months.
The Scottish government said Scotland's higher level of performance was partly due to the "six essential actions" programme, designed to share best practice in the NHS.
Health Secretary Shona Robison added: "We've also provided £30m additional investment over the three years of this programme that has supported the appointment of dedicated national and local teams to focus on improving patient flow, ensuring that once people arrive into A&E, they can be admitted or transferred in a timely way.
"This has been enhanced by additional winter investment each year to support resilience across NHS Scotland - with an additional £5m to support resilience across health and social care services this winter."
Analysis by Shelley Jofre, BBC Scotland health correspondent
Health Secretary Shona Robison often proclaims Scotland's A&E departments are the best performing anywhere in the UK. These new figures certainly seem to back that up.
Since 2013 the number of patients seen within four hours has risen slightly, while the number waiting longer is down nearly 9%. Contrast with England, which has seen a dramatic 155% rise in people waiting longer than the target time.
So what explains the big difference? England's population has grown faster than Scotland's in the last four years (3.3% compared to 1.7%) so that's one reason. But it clearly doesn't tell the whole story.
While Scotland faces the same problems in recruiting family doctors as the rest of the UK, it has more GPs per head of population than the rest of the UK.
Intriguingly, this research shows the number of A&E admissions has barely changed in Scotland over four years, while in England it's risen by nearly 8%. It could be that if patients in Scotland find it easier to get a GP appointment, fewer of them end up in A&E with minor ailments.
The Nuffield Trust health charity says the difference north and south of the border could also, in part, be explained by lower spending on social care in England and a continuing problem there with delayed discharges from hospital.
Its research suggests it's not about how many people attend A&E but about difficulties in admitting people when the main hospital is full. In England, the proportion of hospital beds occupied on average is higher than in Scotland.
The Scottish government puts its A&E performance down to a tight focus in recent years on making sure patients are admitted or transferred in a timely way, backed up by an extra £30m of investment.
Even so, the research shows on the two 12-month periods studied Scotland still fell short of the target of seeing 95% of people within four hours.
And of course it comes in the week it was revealed A&E waiting times have been routinely under-reported in Lothian and Prof Sir Harry Burns said it wouldn't surprise him if the massaging of waiting time figures in the NHS was common.
Have you had to wait for more than four hours in A&E? Share your experience with us by emailing haveyoursay@bbc.co.uk.
Please include a contact number if you are willing to speak to a BBC journalist. You can also contact us in the following ways:
WhatsApp: +447555 173285
Tweet: @BBC_HaveYourSay
Send an SMS or MMS to 61124 or +44 7624 800 100