Report says 20% of siblings taken into care are split up
By Reevel Alderson
BBC Scotland's social affairs correspondent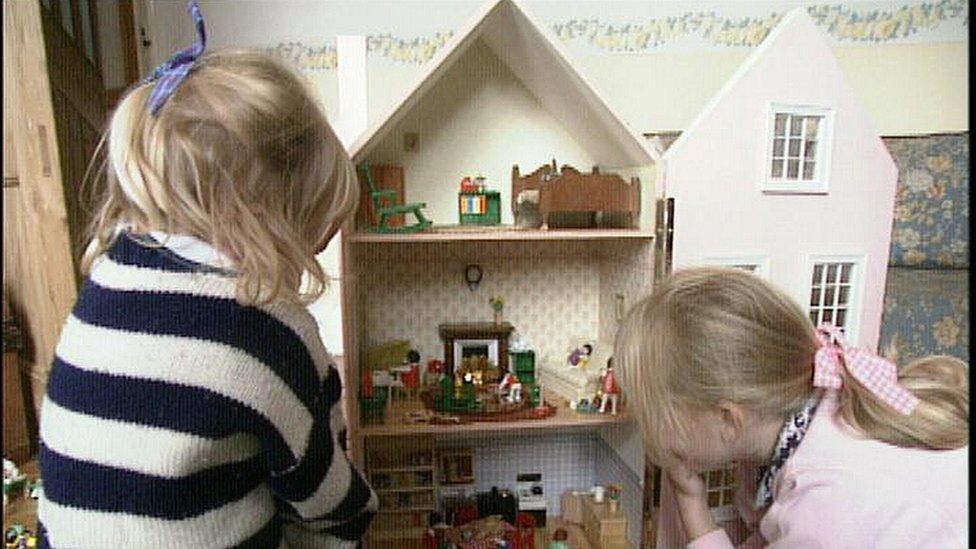 Almost 20% of sibling groups taken into care were split up because of a difficulty in finding suitable placements, a report has said.
Almost 60% of local authorities had difficulties placing sibling groups.
An independent care review is under way to make recommendations to improve the quality of life and outcomes of young people in care.
The report said overall the quality of fostering and adoption services across Scotland was high, with 95% of fostering services and 97% of adoption services rated as good or better by inspectors.
But it said more foster families were needed to support children in care, with 78% of councils reporting instances where the number of children requiring a foster care placement was greater than the placements available.
In particular it suggested experiences for sibling groups taken into care need be improved, with 211 sibling groups (20%) split up on finding a placement.
Karen Reid, chief executive of the inspectorate, said it worked closely with local authorities and independent organisations which provide adoption and fostering services.
She said: "From our inspections we know that the vast majority of these services perform very well. By highlighting good practice and identifying areas which can improve, we help ensure that all children can get the best possible start in life.
"We also know that more high quality fostering and adoption places are needed for vulnerable children, and that too many children are separated from their siblings when a place is found for them.
"It is important that children in care are supported to form permanent and loving relationships as quickly as possible, and an important part of this is almost always maintaining the strong bond between siblings.
"Sisters and brothers are often a great support and comfort at times of crisis, especially for young children."
Fiona Steel, operational director of children's services at Action for Children Scotland (ACS), said: "One of the main concerns highlighted in this report is the difficulty in recruiting foster families to look after sibling groups.
"This was an area we highlighted in our recent report on children in the care system and is due to issues as varied as lack of appropriate accommodation through to the impact on their birth children.
"Caring for, reuniting and reconnecting siblings highlights the advanced skills and resilience that is required by carers to support siblings, who have experienced significant trauma, to remain together.
"The trauma that siblings have shared, and their communication of it, occurs in many different ways and can have profound and long-lasting impact on carers and their family."
The independent review, which began its work in May 2017, is looking at legislation, practices, culture and ethos of the care system across Scotland.
The government said it will make recommendations to improve both the quality of life and outcomes of young people in care.
When it was established, its chairwoman, Fiona Duncan, said it would deliver a review which changed lives and was transformational.
The review team includes charities and a number of individuals experienced in care.
Ms Duncan said: "Without the voice of care experience, this review would not be happening - and without that voice, it will not deliver.
"Many young people, their families, and professionals involved in the care system have an important contribution to make, and I look forward to learning from them in the coming weeks and months."
The Care Inspectorate report publishes for the first time figures compiled in December 2016 and shows Scotland has 59 registered foster care services, of which 32 are run by local authorities and 27 by independent services.
There were 4,011 approved foster carer households and a total of 5,435 children in a foster care placement, of which 28% were permanent placements.
There were 209 children in foster care at the end of December 2016 who were waiting for a permanent placement.
Related Internet Links
The BBC is not responsible for the content of external sites.