Ex-youth football scout facing abuse charges dies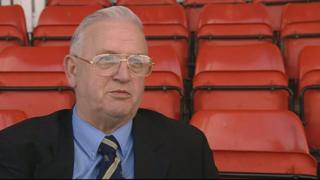 A former Rangers and Liverpool football scout who was awaiting trial on historical child sex abuse charges has died.
Harry Dunn, 84, was arrested earlier this year and released on bail.
Mr Dunn, who also scouted for Chelsea, was named in newspaper reports in March amidst a UK-wide scandal over the abuse of children by football coaches.
A Crown Office spokeswoman said: "As a result of his death proceedings against him are now at an end."
One of Mr Dunn's alleged victims, former player Levi Stephen, waived his anonymity in a BBC Scotland documentary in April to detail the abuse he said he suffered when he was aged 13, on a trial for Liverpool.
Mr Stephen told BBC Scotland he was "devastated" that Mr Dunn would not now stand trial.
Another man who featured in the BBC programme, former Celtic Boys Club coach Jim Torbett, is due to stand trial next year.
Mr Dunn was thought to have been living in Edinburgh before his death.