Review recommends student income of £8,100 a year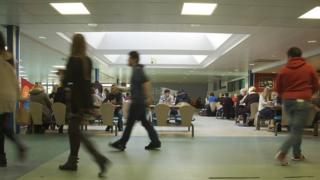 All college and university students should have an income of at least £8,100 a year, according to an independent review of student finance.
The report, commissioned by the Scottish government, also recommended changes to the student loan system.
The £8,100 figure would be a mix of loans and bursaries determined by personal circumstances.
Student leaders said "serious investment" was needed to change the "broken" support system.
The Scottish government said it would take time to consider the recommendations and set out its next steps "in due course".
The review looked at the financial support available to all students and considered whether it support met the needs of the poorest and most vulnerable.
It also examined the current repayment threshold and period for student loan debt.
The key recommendations of the review included:
A new social contract for students
Minimum student income entitlement in both further and higher education
Minimum student income of £8,100
Increased means-tested bursaries, and discretionary funds protected
Student loan terms enhanced, including an increased loan repayment threshold
Student loans available in further education
Debt write-off for students transitioning from further to higher education
Common systems of administration within further and higher education
A new approach for students on benefits
The review was chaired by Jayne-Anne Gadhia, the chief executive officer of Virgin Money.
Presenting the 84-page report of its findings, she said: "Our recommendations are based on a new social contract for students in Scotland.
"They would ensure that further and higher education are valued equally - with entitlement to support for students across both sectors.
"And in return, more students from diverse backgrounds will have the chance to become successful graduates, for the social and economic good of Scotland."
Ms Gadhia said every £1 of public investment in further and higher education led to almost £6 of economic impact.
She added: "The establishment of a minimum student income is an essential step forward in delivering fairness, and helping to ensure that money is no longer a reason for dropping out of courses.
"Non-repayable bursaries will continue to be focused on those from the lowest income backgrounds. And students can, if they so wish, access high quality student loans - on the best terms in the UK."
Analysis from BBC Scotland education correspondent Jamie McIvor:
The proposal for a "guaranteed income" for students would bring clarity and simplicity to the system.
While all Scottish students receive free tuition, arrangements for help towards living costs are more complicated.
For instance a university student from a family with an income of less than £19,000 is entitled to a bursary of £1,875 and a loan of £5,750 - a total of £7,625.
Someone from a family with an income of more than £34,000 gets no bursary while the loan they are entitled to is just £4,750.
There are different arrangements for college students.
The chairwoman of the review group acknowledged constraints on public finances when it came to delivering the recommendations.
She said it would require additional funding of £16m a year but said the review had also set out other options, which would cost more, that the Scottish government could pursue if further public funding became available.
The review heard from more than 3,500 students and had almost 100 responses to its consultation from colleges, universities and student associations, as well as individuals. Focus groups were also carried out across Scotland.
Minister for Further Education, Higher Education and Science, Shirley-Anne Somerville, said: "The report sets out a number of recommendations that would fundamentally change the way students in Scotland are supported financially.
"It is only right that we now take the time to consider these recommendations in detail - and as part of current and future budget processes. We will set out our next steps in due course."
She said the Scottish government was investing a "record amount" in student support and wanted to ensure "all students, especially those in our most deprived communities, are provided with the financial support they need to succeed".
Reaction to New Social Contract for Students
Responding to the report, NUS Scotland president Luke Humberstone welcomed proposals to give the same level of support to further and higher education students.
He said: "Whether you're studying at college or university, the cost of living doesn't change and neither should the level of student support available.
"While this report presents a range of options for the future of student support to deliver the new social contract, Scotland's poorest students in further and higher education need to see serious new investment in bursary support - so that they are supported to succeed wherever they study.
"At present, those students taking out loans in Scotland get a raw deal. This report recommends the Scottish government fixes that, ensuring that graduates don't start repaying their student debt until they see the benefits of their degree in their payslip."
Informed decisions
Colleges Scotland, the body which represents Scotland's further education institutions, said it fully supported measures to improve student support funding to ensure that all students can attend college, regardless of their personal circumstances or background.
Chief executive Shona Struthers added: "As the recommendations from the review are considered, it will be vital to ensure that any changes to the student support review are carefully implemented and communicated with nuance to ensure that individuals are empowered and enabled to make informed decisions on funding their studies."
Scotland's largest teaching union, the EIS, urged the Scottish government to "take bold steps to ensure that student support is enhanced to promote equity of opportunity for all learners".
General secretary Larry Flanagan said: "The EIS believes that a return to a system of student grants and the removal of the prospect of debt from student loans would both widen access to education and provide a knock-on boost to Scotland's economy."