Doug Allan: A life capturing the natural world on camera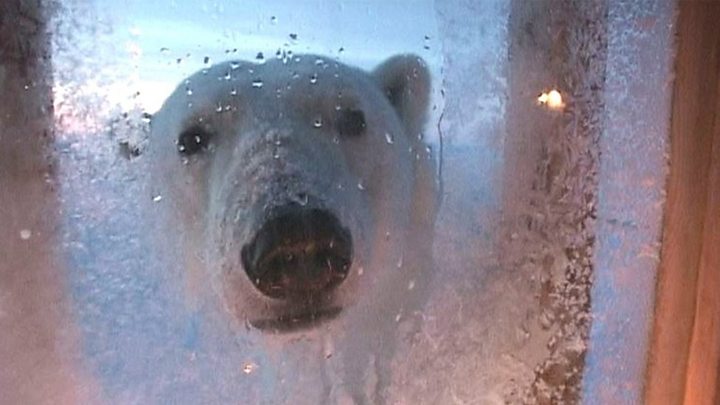 Doug Allan is one of the world's best nature cameramen and has filmed some of the most memorable scenes ever broadcast on television.
There have been some close scrapes with animals along the way, including an inquisitive polar bear who was a little too close for comfort and a hungry walrus who thought Doug was a seal.
Doug's path to nature photography began as a pupil at St Leonard's Primary School in Dunfermline, Fife.
He got into snorkelling and diving and was inspired by Jacques Cousteau's The Silent World, the 1956 documentary remembered as one of the first films to use underwater filming.
Following a marine biology degree at Stirling University, Doug enjoyed "collecting the data of science rather than crunching it".
He took a job as a research diver with the British Antarctic Survey and began taking pictures underwater.
Doug was thinking about a career with National Geographic magazine before he met a certain David Attenborough in 1981.
The wildlife presenter was filming Living Planet in the Antarctic and Doug was asked to work with him.
Doug soon realized his scientific knowledge and photography skills made him an ideal candidate to specialise in filming nature in the Arctic and Antarctic.
Doug has worked on the BBC's The Blue Planet, Life of Mammals, Planet Earth, Life, Human Planet and Frozen Planet. Four Emmys and five Baftas are among his many accolades to date.
His work includes searching for the elusive snow leopard, and filming a famous sequence with Doug Anderson for Frozen Planet involving killer whales who worked together to create waves and knock seals into water.
Doug said: "When you are underwater, you have to get close to animals.
"So when you have something like a whale coming out of the blue, choosing to come over and spend time with you, and you then playing your cards right so the animal relaxes in your company and it carries on with bits of its natural behaviour. It is simultaneously an exciting experience but also a massive privilege."
'The bear's wet nose was rubbing against the window'
Filming polar bears over the years has been another highlight. He has spent about 620 days searching for and recording the mammals. One day, a polar bear came looking for him.
"Cameraman Jason Roberts and I were in the hut on Kong Karl's Land," he says.
"We both had our backs to the window while doing the washing up. This polar bear came to the window.
"For a brief second, I thought there was someone with a squeegee mop cleaning the outside of the window. I turned around, and it was the bear's wet nose rubbing against the window.
"So we very quietly went to the door, opened it and sprayed some pepper spray in the bear's direction and it ran off."
However, this is not Doug's closest scrape. That came at the hands of a hungry walrus on the Canadian coast.
"I had been snorkelling for about 20 minutes," recalls Doug.
"I had just finished taking some pictures of guillemots and something wrapped its arms around my upper legs. I looked down and there was a walrus head tucked underneath my arm.
"It must have thought I was a seal. My reaction was not that of a seal. Seals don't usually carry cameras.
"I hit it on the head with the camera, and luckily it let me go."
This is startling enough, but the story took a gruesome twist when Doug spoke with the local Inuit people nearby.
He added: "A walrus usually takes the seal higher up on its body so it traps the flippers next to the seal's body.
"It finishes off the seal - according to my Inuit friend - by putting its lips against the seal's head, sucking hard, and basically taking the seal's brains out.
"It is a good job in this case that it took me low in the legs and didn't get its head near my head."
Good job indeed.
Doug was in Glasgow recently to pick up his Bafta Scotland award for Outstanding Contribution to Craft, an accolade recognising his incredible career.
"I'm glad it was outstanding contribution to craft, and not lifetime achievement," he jokes. "I think when they give you a lifetime achievement it is like that is the end of your life.
"There is something special about getting an award from Scotland."
Nowadays, Doug splits his time between filming natural history documentaries, promoting his book Freeze Frame, and delivering talks about the natural world instead of committing full time to major projects such as Blue Planet 2.
A National Geographic film called Hostile Planet will be one of his next projects to hit our screens.
He said: "The phone still rings for natural history subjects and public speaking is something I do to reach out to the public and younger people, talking about issues in the natural world and trying to move the needle in any small way to improve the welfare of the wee planet we live on."