Scottish Ambulance Service staff morale 'at rock bottom'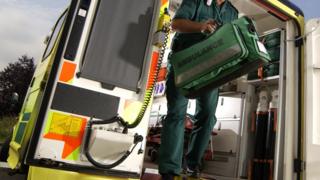 Morale in the Scottish Ambulance Service is at "rock bottom" because of excessive demands placed on staff, according to the union Unite.
The BBC has obtained the results of an internal staff survey suggesting work pressure had affected the health of more than half of the respondents.
Unite also warned of increase in the "turnaround" times before an ambulance is ready for its next call.
The ambulance service said it took the wellbeing of staff very seriously.
A spokesman added that it was working closely with health boards to improve turnaround times across Scotland.
Nearly two in five of ambulance services employees responded to the survey, which was carried out at the start of the year.
The vast majority said they "strongly agreed" morale was low - with more than one in four saying they had considered leaving because of pressure at work.
Unite said the centralisation of hospital services has increased the time it takes ambulance staff to turnaround 999 calls and, with fewer casualty departments, there are bottlenecks in dropping patients off.
The union's national convenor, paramedic Jamie McNamee, told BBC Scotland it used to take an average of 54 minutes in Glasgow in between the ambulance service receiving a 999 call and the ambulance being available for another call.
He said this had now increased to one hour and 30 minutes, meaning many ambulances were unavailable to take on further emergency calls.
"I would suggest if you took a camera up to the casualty department at the Glasgow Royal Infirmary or at the Queen Elizabeth Hospital at any day of the week, you'll see a huge array of ambulance vehicles sitting there at any one time," he said.
"Inside the hospital it would not be unknown to have a corridor full of ambulance trolleys and patients on these trolleys waiting to get an appropriate clinical handover."
---
The findings of the survey included:
85% of staff strongly agreed morale was low in SAS
54% of staff strongly agreed pressure at work had affected their health
28% of staff claimed to be subjected to bullying at work
27% of staff had considered leaving SAS due to pressure at work
---
A Scottish Ambulance Service spokesman said the figures quoted were from a "historic survey", with the latest results being published in the new year.
"We recognise that whilst our staff do a tremendous job caring for patients and saving lives each day, working for the ambulance service can be stressful at times given the situations they can face each day.
"We take the health and wellbeing of our staff very seriously and we have a wide range of support available including counselling support, occupational health services and other procedures in place to ensure any wider issues raised are dealt with."
The service said turnaround times could be affected by a wide range of factors, including high call volumes; people self-presenting at accident and emergency departments; people in care settings requiring hospital treatment; and the time taken to clean vehicles.
"We recognise that there are pressures on hospitals during peak periods and we are continuing to work closely with health boards to improve turnaround times across Scotland," said the spokesman.
---
The survey quotes ambulance staff who took part:
"Equipment is often missing or not working."
"Ambulance control bully and harass crews continually."
"Vehicles keep breaking down so don't feel confident while out on the road."
"Bullying by management is rife and the fear to report it is high due to historical events."
"Vehicles not fit for purpose."