Rape victims criticise 'degrading' justice system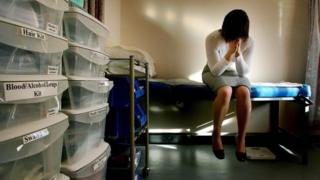 Rape campaigners are calling for an overhaul of the justice process after a report identified problems with the way victims of sexual crimes are treated.
One victim told the Inspectorate of Prosecution in Scotland that their ordeal in court was worse than the rape itself.
Others complained that the court system was "degrading" and "terrifying".
The Crown Office said it was improving the way it worked, and that more women were coming forward to report crimes.
The inspectorate's report noted that the reporting of sexual crime had risen steadily and was now at its highest level since 1971.
The conviction rate for all sexual crime stands at 72%, but falls to 48% for rape and attempted rape.
While acknowledging that the investigation and prosecution of sexual crime pose particular challenges, the report highlights a number of problems:
A high number of victims (12%) "disengaged" from the justice process after initially reporting the crime.
Frequent delays, with preliminary investigation taking more than 10 months in 45% of cases.
Poor communication while investigations were conducted, with 47% of victims saying it was below expectations.
In 93% of cases, victims were updated on important developments - but there were "significant gaps".
Uncertainty over the date when a trial will begin.
A lack of advocacy services for child victims.
The report highlights examples of good practice but makes a number of recommendations, including improved communication and streamlining processes so that cases are dealt with quicker.
What the victims said about the legal process
The report highlights a number of comments from victims about how their cases were handled. They included:
"I generally heard nothing from month to month."
"The language is not understandable. I had to educate myself using Google."
"On opening the letter the first thing I saw was the name of the person who attacked me in black bold letters. It was very distressing."
"On asking why the trial was being put off for a third time, I was told there were other cases that had higher priority. This makes you feel that you do not matter."
"I was not prepared.... [the court appearance] was the most degrading and terrifying thing."
"In our court system, you are totally humiliated. It was the most degrading experience I have been through."
"Court was absolutely horrendous, it was worse than being raped."
Rape Crisis Scotland's chief executive Sandy Brindley said the report raised serious concerns about the way the justice system responded to sexual crimes.
She said: "For a survivor to describe the process of seeking justice as being worse than being raped is a statement that should concern us all.
"What women are telling us is that their experience of the justice process, and particularly of giving evidence in court, is so traumatic that even in cases where there is a conviction, the cost of getting justice was too high."
A spokesperson for the Crown Office said there had been a significant increase in the number of sexual offences cases, now accounting for 75% of its High Court work.
"The prosecution service is reforming the way it works to take account of this increase," the spokesperson added.
"Most of the cases examined by the report date from a time before the implementation of COPFS' new victim strategy, which was introduced earlier this year.
"The law officers attach a great deal of importance to ensuring we fulfil our obligations to victims. There is more work to be done to ensure that every victim feels supported through the justice process - particularly children and vulnerable witnesses."