Places on teacher training courses left unfilled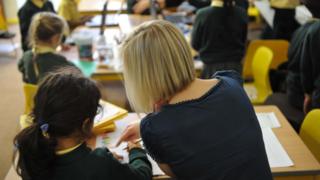 Official figures have confirmed that many places in teacher training in Scotland have not been taken up.
In September, BBC Scotland revealed that a large proportion of places were unfilled.
Scottish Funding Council figures show that more than half of the target number of training places for maths teachers are empty.
Overall only seven out of 10 places for people who want to be secondary teachers have been filled.
There are 1,226 people in Scotland currently studying to become secondary schools teachers - 70% of the overall intake target set by the Scottish Funding Council (SFC) for 2017-18.
Only 36 of this group are training to be technological education teachers - 29% of the target of 124.
While the SFC had set the goal of recruiting 237 student maths teachers, this year's figures show that there are only 112.
The SFC had also wanted to attract five people to study to become Gaelic teachers, but has failed to recruit any students to this.
But some subjects areas are oversubscribed, with universities having 122% of the target number of history teachers and 115% of the target number of modern studies teachers.
---
READ MORE ON THIS:
New routes into teaching boosted the overall number of student teachers by 204.
Deputy First Minister John Swinney said: "These new routes are designed to encourage people from a whole range of backgrounds to consider teaching as a profession and I am pleased to see the impact they are having on the number of student teachers.
"It is disappointing the targets set for some secondary subjects have not been met. However, alongside the £20,000 STEM (Science, Technology, Engineering and Maths) bursaries I recently announced for career changers and the increased interest we have seen among undergraduates as a result of our recruitment campaign, we expect to see the number of people training as teachers continuing to rise.
"While teacher recruitment is a matter for local authorities, we recognise that challenges remain and have made £88m available this year so schools can access the right number of teachers, with the right mix of skills.
"We are also putting in place a national approach to the recruitment of teachers from outside Scotland."
Separate figures also showed that there are 536 vacancies in Scotland's schools - including vacancies for head teachers and deputes.
Critically, almost half of them had been unfilled for almost three months, suggesting that finding suitable candidates is proving difficult.
Schools are currently looking for 77 principal teachers, 29 head or depute head teachers and 71 maths teachers, as well as 65 English teachers.
The Scottish government stressed the permanent teacher vacancy rate is 1.6% of the overall teaching workforce.
In August, BBC Scotland reported on the problems experienced by a school in Fife which could not recruit a new computing teacher quickly. Teachers from another school were taking the Higher class after the end of the normal school day.
That vacancy has now been filled.