'I wrestled with MBE but accepted for my mum'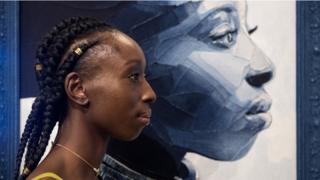 Scottish model Eunice Olumide says she "wrestled" with the idea of accepting an MBE.
Growing up on a "pretty serious council estate" in Edinburgh as the child of African immigrant parents meant she was uneasy taking an award whose name contains the phrase "British Empire", she says.
Although she was overwhelmed by the honour, she says it did not suit her "ideology of life and what I stand for".
It was her mother, who came to Scotland from Nigeria, who made her looked at it from a "different perspective".
Eunice, who has worked for top designers such as Tom Ford, Jean-Paul Gaultier, Prada and Vivienne Westwood, says her mother pointed out that the MBE recognised her extensive charity work mentoring young Scots.
She told BBC Scotland's John Beattie programme: "My mum was advising me to understand the greater implications and that accepting it could actually help a lot of the people with the issues I am genuinely concerned with."
Eunice says that for her mum's generation their child receiving one of the biggest awards in the UK was a major honour.
So, on Thursday morning, the 30-year-old model, actress and broadcaster will be at Buckingham Palace to receive her MBE.
"I think African people's journey has always been one of acceptance," she says.
"But I do understand why many people I respect, such as Benjamin Zephaniah, said no to it."
Eunice was born in Scotland because her father was part of the Navy and was stationed at Rosyth in Fife.
After her parents split, her mother set up home in Wester Hailes on the outskirts of Edinburgh.
"It was probably the most affordable place for her," Eunice says.
'Slightly alienated'
There were very few people of colour on the estate and she says she got used to everyday racial discrimination.
Eunice says she could never be like the other children and felt "slightly alienated".
She says she had "negative experiences" because she was of African descent and there were very few other people who she could look up to.
"I would say that has changed significantly over the past five or 10 years," Eunice says.
"People are much more open-minded and I think that is due to a variety of different things. One of them being popular culture."
For Eunice, the rise of hip-hop musicians and film stars from an Afro-Caribbean background has led to people becoming more accepting.
Her own presence in the fashion world also broke down barriers.
She was first scouted as a model when she was 15.
"I didn't realise at the time but it was by some of the top agencies," she says.
"I remember the first time I was ever scouted, I was wearing some baggy denim dungarees, a high top and a bomber jacket, no make-up, hair scraped back.
"It is probably the best state to be in because people can see what you actually look like."
Eunice says: "I didn't say 'yes' the first time I was scouted because I did not take it seriously at all.
"It wasn't until later in that year, around my 16th birthday, that I actually thought I'm going to give this a shot. Let's see what it is like."
As her teenage modelling career took off, she was concerned that it would affect her academic success so she took time out to go to Glasgow Caledonian University where she studied for a degree in Communications and Mass Media.
"I did continue to model while at university," she says.
"I feel that it strengthened me because it gave me an alternative career path and meant I was not reliant and dependent on it."
After university, she says she went back into fashion with a deeper understanding of the world, the media and politics.
She says was determined to stand up for her beliefs and put them into practice, leading to ambassadorial roles with many campaigns and charities.
Her career in fashion was hugely successful despite happening to her "accidentally" and she says she got into the art world in the same way.
She founded the Olumide Gallery in London with a number of artists to "bring art to everyday people".
This has led to her working with the Royal College of Art and she is "very excited" to be linking up with the new V&A in Dundee.
Eunice has also appeared in films such as Ab Fab: The Movie and Star Wars: Rogue One as well as starring at the Edinburgh Fringe.
In recent years, she has made the move into broadcasting, regularly appearing as a contributor on the BBC and Sky.
She says: "When I was in my early-20s, I don't think the UK was quite ready to embrace someone with my aesthetic.
"But you've seen a huge rise right across the arts, particularly in film with Idris Elba, Adam Deacon, Noel Clarke. I do feel this is the right time for someone like me."