Remembrance Sunday services held across Scotland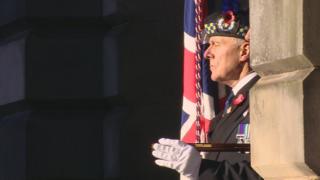 Scotland's war dead have been honoured at Remembrance Sunday services across Scotland.
First Minister Nicola Sturgeon laid a wreath at the Stone of Remembrance at Edinburgh City Chambers.
She said the nation owed those who had fought in wars and conflicts "an enormous debt of gratitude".
Meanwhile, Veterans Minister Keith Brown said Remembrance Sunday should be used to ensure future generations are "spared the horrors of war".
He laid a wreath at the cenotaph at Puller Memorial Park at the Bridge of Allan Remembrance Service.
Two minutes of silence was observed at 11:00 across the country.
Ms Sturgeon said: "Remembrance Sunday is always a poignant occasion.
"It's an opportunity for all of us individually and collectively to pay our respects to those who have fought in our armed forces, our veterans, and those who currently serve in our armed forces to keep the whole world safe.
"We owe them an enormous debt of gratitude. Today is a moment to remember the sacrifices that have been made."
Anne Blair, the widow of the highest ranking soldier killed by the IRA, laid a wreath on behalf of the War Widows Association.
She said: "It's such an honour and a privilege to be here today. It's such a big moment for myself and my daughter."
She said she felt there was perhaps less focus on more recent conflicts at memorial services, adding: "Northern Ireland is a very difficult topic. It's a diplomatic, tricky thing so there isn't an awful lot of focus on them."
Speaking before the commemorations, Mr Brown said: "We have a responsibility to learn from the lessons of the past, and Remembrance Sunday should be a solemn, dignified occasion when we commit ourselves to ensuring that our own and future generations are spared the horrors of war.
"A century on from the devastation of the First World War, which left barely a community or single family untouched by tragedy and loss, it remains as important as ever that we come together across Scotland to commemorate those lost in all conflicts, past and present."
Later on Sunday, veteran and serving Commandos gathered for a service at Spean Bridge's Commando Memorial near Fort William.
Army, Royal Marine Commandos and special units from all forces were represented at the service, which followed a parade through Fort William.
The memorial is in tribute to marines who trained in the area during World War Two.
A service was also held at the war memorial in Glasgow's George Square, led by Lord Provost Eva Bolander.
The Rev Ian Galloway, moderator of Glasgow Presbytery, led prayers and Deputy First Minister John Swinney was among those attending.
Two minutes of silence were also observed across the country at 11:00 on Saturday - Armistice Day.