Mother's fury at 'lack of support' for daughter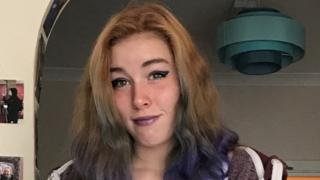 The mother of a teenage girl who took her own life after absconding from residential care said she was "furious" at the lack of mental health support for her daughter.
Libbi Toledo had severe mental health issues as well as autism and ADHD.
The 17-year-old's body was found in a scrapyard in Kirkcaldy, 10 days after she was reported missing.
Her mother Judi said the way her daughter was "let down by the system is absolutely disgusting".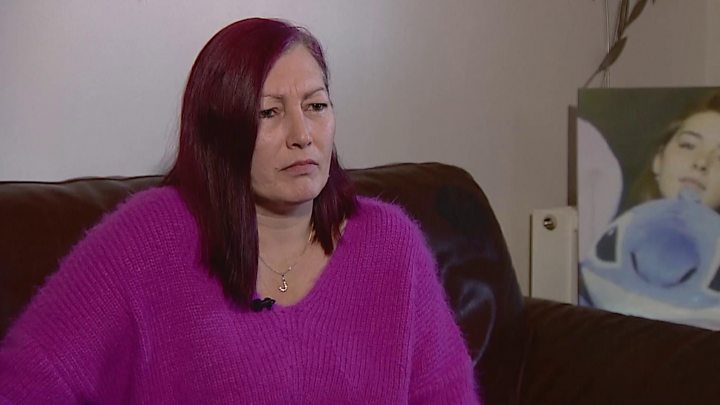 The Scottish government has accepted recommendations that it needs a specialist facility for children with learning difficulties and autism.
Libbi's body was found on 21 September in Kirkcaldy in Fife.
She had last been seen on 11 September close to where her body was found.
Libbi had spent three days prior to her disappearance with family in Brechin in Angus, where her mother lives.
She had returned to the residential care home in Kirkcaldy the day before she went missing.
Her mother said Libbi was "fun, creative, nurturing and loving" but she had "difficulties that affected her behaviour and how she reacted to things".
She said Libbi had a history of mental illness, which was first apparent in early childhood.
Judi Toledo said: "She became very destructive when she was angry, physically lashing out and destroying things, ripping wallpaper off walls, anything to get the frustration out."
By the time she was at nursery, the staff flagged up behavioural difficulties and Libbi was assessed for ADHD but never diagnosed.
Libbi spent time in care because of her challenging and sometimes violent behaviour.
At the age of 14, she ran away from her foster carer and made a determined attempt to take her own life.
She was taken to Ninewells Hospital in Dundee where she spent nine hours before being discharged to her foster carer.
Her mother said: "Six months later she was diagnosed with the Asperger's range of autism."
Judi Toledo cannot understand why her daughter was not admitted to a mental health provision.
She said: "A psychiatric nurse did come in and evaluate her, and it was her that flagged up there may be some autism."
In-patient care
Her mother said she was "furious" that in-patient care was never considered.
"If she had got the help she needed then, maybe she would still be here," she said.
"We can't guarantee that but maybe I wouldn't have had to plan a funeral last month."
Libbi's mother said her daughter had been in "secure" residential accommodation three or four times since 2014.
She said: "Secure accommodation is never good enough for people who need to be in a psychiatric hospital.
"Secure accommodation is successful in being able to prevent the dangerous behaviours but it does not address the root cause.
"I don't think any parent should have to fight to get appropriate health care for their child. Kids are not getting the help they need."
Scotland has no secure in-patient psychiatric care for children - unlike England.
There are only 48 in-patient beds for children and young people with mental health problems in the entire country.
There is no specialist psychiatric provision for children with autism.
Charities that work with people at the most extreme end of mental health issues say stories like Libbi's are not uncommon.
Back of the queue
Sophie Pilgrim, a director of Kindred Scotland and a member of the Scottish Children's Services Coalition, told BBC Scotland: "These children are simply not given the same proportion of support as other children are so it is simply a discrimination against them.
"There are really good professionals in Scotland, there is a lot of expertise and we know how to care and support these children and to get good outcomes for them.
"So it's not a problem we don't have the treatments and the knowledge to support them.
"The problem is that we have put them at the back of the queue, simply because they have learning difficulties and autism."
Working hard
Neither NHS Tayside or Angus Council were willing to comment on the case although both expressed sympathy for Libbi's family.
The Scottish government said it was considering proposals for a forensic secure inpatient facility in Ayrshire and Arran.
It has, in principle, accepted recommendations that a specialist unit for children with learning difficulties and autism is required, although it is not clear when they will be established.
Welcoming the publication of the of Learning Disability, Children and Adolescent Mental Health Services (CAMHS) Report, Mental Health Minister Maureen Watt said: "We are happy to accept, in principle, the report's main recommendation that a national LD CAMHS inpatient unit for Scotland should be established.
"This is a hugely significant step forward in ensuring that children and young people with learning disabilities are able to access appropriate highly-specialist inpatient support in Scotland.
"We will now work closely with NHS National Services Scotland on developing the proposal further. The report also suggests other improvements to respond better to the needs of this highly specialised group."
Details of organisations offering information and support with mental health are available at bbc.co.uk/actionline, or you can call for free at any time to hear recorded information on 08000 564 756.