Fake poppy jewellery seized before Remembrance day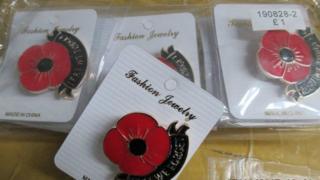 Fake poppy-branded products worth about £150,000 have been seized ahead of Remembrance Sunday.
Nearly 8,000 pieces of counterfeit jewellery, including scarves, badges and key rings, were intercepted at a port in Essex by Border Force officers.
The haul included 600 featuring Poppyscotland's four petal poppy design and the words "Lest we forget".
Border Force Acting Deputy Director Mark Kennedy said fakes diverted "vital funds" from the Royal British Legion.
The four petal design is owned by the Earl Haig Fund Scotland, which helps for those who have served in the armed forces across Scotland.
The charity is organising a number of events to mark Remembrance Sunday on 11 November.
When officers stopped the counterfeit shipment it was headed from China to an address in the Manchester area.
A spokesperson for Poppyscotland said: "We have a responsibility to make sure that these trademarks are protected so that the public can be sure that their donations are going directly to a registered charity."
"The Royal British Legion and Poppyscotland offer a number of poppy accessories which raise much-needed funds for our charitable work.
"By donating for a poppy through our official channels, or corporate partners, the public can rest assured that their money will go towards supporting our Armed Forces community."
Mr Kennedy said: "Had these fake goods entered the market, they could have cheated thousands of pounds from unsuspecting members of the public and diverted vital funds away from the Royal British Legion.
"My officers work around the clock at ports, airports and mail sorting centres identifying and seizing counterfeit goods and their diligence has proved vital here.
"All counterfeits cheat honest traders and we are determined to crack down on this type of criminality. Border Force works closely with partner law enforcement agencies to ensure co-ordinated action against those who attempt to import fake goods."