Police Chief Constable Phil Gormley faces fifth complaint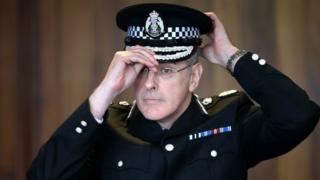 A fifth complaint against Chief Constable Phil Gormley has been sent to the Scottish Police Authority (SPA).
The BBC understands that the latest complaint was made by a civilian worker with Police Scotland.
Three of the previous complaints have been passed to the independent Police Investigations and Review Commissioner (Pirc).
A fourth complaint, also from a civilian, is being considered internally.
Mr Gormley is currently on what's been termed "leave of absence" and the SPA has confirmed this will be reviewed at the beginning of December.
He stepped aside in September amid investigations into two allegations of bullying.
What complaints have been made against Mr Gormley?
Those allegations were followed by a third for bullying, before a fourth allegation of gross misconduct was made in October.
Mr Gormley has previously denied all the allegations against him and has said he intends to resume his duties in the future.
He was appointed as chief constable of Police Scotland in January last year, and his contract still has more than a year to run.
Deputy Chief Constable Iain Livingstone has taken over leadership of Police Scotland until further notice.
A spokeswoman for the SPA said: "The SPA board has reviewed its prior decision to grant a period of leave of absence requested by the chief constable and whether any other measures are necessary.
"The board has assessed and agreed that a continuing period of leave remains an appropriate measure to address investigative and welfare issues for all parties involved.
"The SPA will review this again by Friday 1 December 2017."