Alex Salmond: Trump 'broke Scots investment promises'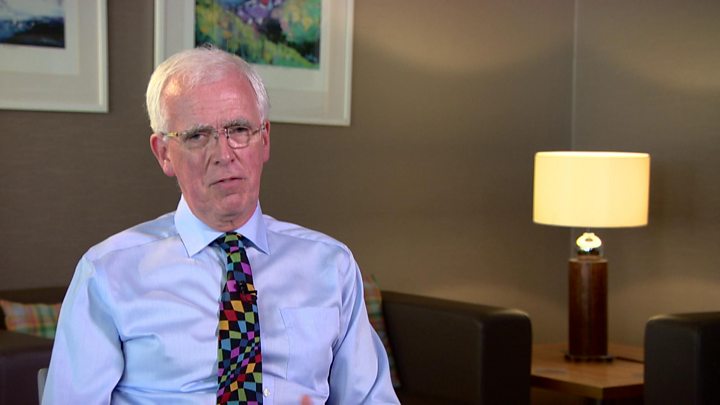 Donald Trump has failed to honour his investment promises to Scotland, former First Minister Alex Salmond has said.
Before his election, the US President said he would spend £1bn building a golf resort in Aberdeenshire.
Ten years after the planning application was called in by the Scottish government, much of that development has yet to materialise.
The Trump Organisation said it had made a long-term commitment and intends to continue building on the site.
It has given BBC Scotland first sight of its plans for the next phase of development on the Menie estate, north of Aberdeen.
'Long-term investment'
Donald Trump was given permission to build there on the basis that any environmental damage could be justified by the scale of economic benefit being promised.
It was supposed to be a £1bn investment, creating about 6,000 jobs.
It was to include two championship golf courses, a 450-bedroom hotel and almost 1,500 holiday and residential homes.
The development so far includes one golf course and a club house, a 16-bedroom boutique hotel and some lodges.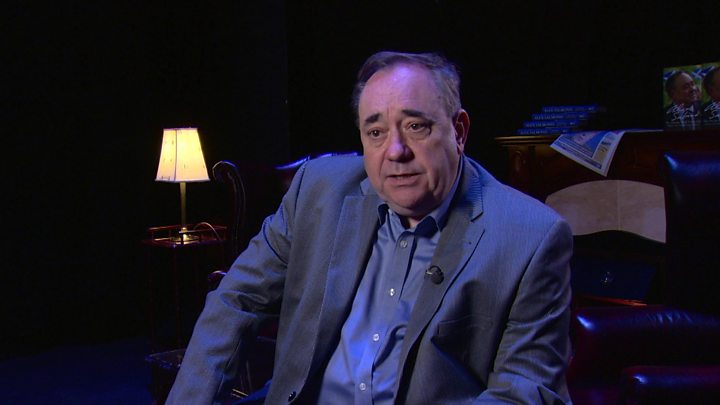 The Trump Organisation said it had spent around £100m, which is about 10% of what was promised.
It said about 500 people were involved in construction and that it employs 150 people in Aberdeenshire, including part-time and seasonal staff.
Alex Salmond, who supported the Trump resort as the local MSP, thinks that's not good enough.
"The people who were putting it forward did not live up and honour the agreements they made to the Scottish people," he said.
Asked if he'd been taken in by Donald Trump, Mr Salmond said: "To the extent that I found it difficult to believe that somebody could be so brazenly certain of an investment plan at a public local inquiry and then make very little attempt to bring it home."
'Multi-phase project'
The Trump Organisation's Sarah Malone is in charge of the Aberdeenshire business which is known as Trump International Golf Links Scotland.
"We haven't finished" she said. "It's a multi-phase project and we're not stupid. This wasn't going to get built overnight.
"It's a long-term investment opportunity for us and that's how Mr Trump has always approached it.
"Even if we'd only spent £10m that should be celebrated," Ms Malone said.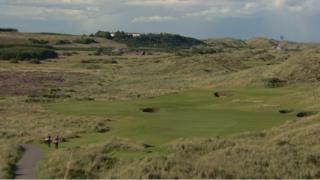 The golf course - which has been widely acclaimed - has also had an environmental impact at Menie, which forms part of the Foveran Links Site of Special Scientific interest.
It had been given special status because it was considered one of the finest examples of a mobile sand dune system in the UK.
But Scottish Natural Heritage has reported some permanent habitat loss and damage to the dune system. It has told the BBC it is now reviewing the boundary of the protected site.
The leader of Aberdeenshire Council, Jim Gifford, who has always supported the development, said it was not worth the environmental trade off.
"For what is only there just now - no - because the economic benefit hasn't come through," he said. "But in the big picture that was put in front of us 10 years ago, it was worth doing."
The council leader wants the Trump Organisation to finish the job.
"I think they have an obligation to bring forward what they promised, that's the bottom line of it," he said.
"The difficulty we have is we can't force them to do that."
Resort village
The Trump Organisation has recently submitted a planning application for a second golf course, which has been met with environmental objections.
It has also drawn up plans to build a resort village at Menie with a mixture of 550 residential homes and holiday accommodation, but no big hotel.
The Trump team hope to build these different types of property at the same time, rather than in the phases set out in the original planning consent.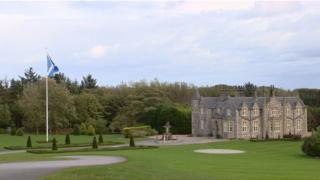 Sarah Malone said the phasing, which requires holiday accommodation to be built before private homes, "doesn't make any commercial sense".
She said: "It never did and I think it's another illustration of why the planning system is flawed."
Alex Salmond anticipates problems in getting the plans approved.
He said: "I think the Trump Organisation, whoever's putting forward the proposals, will have a huge credibility problem in persuading this generation of planners and councillors in Aberdeenshire to believe the commitments they're now making given the track record of the last ten years."
Donald Trump put construction on hold while he fought and lost a legal battle with the Scottish government over an offshore wind farm on the Aberdeenshire coast.
In the intervening years, market conditions in north east Scotland have changed with the oil price crash hitting the local economy hard.
The wind farm has now got the go ahead but despite that, the Trump Organisation is expected to bring forward its revised house building plans early in the New Year.
Donald Trump: Scotland's President will be broadcast on BBC One Scotland, at 21:00 on Thursday 9 November.