The man walking alone across the Gobi Desert - in winter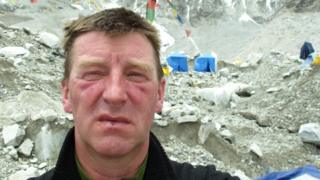 Newall Hunter, a 53-year-old IT consultant, is one of the world's greatest adventurers but he admits nobody has heard of him.
Last year he became one of just 16 people ever, and the only Scot, to climb the highest mountain on each of the seven continents and walk to the north and south poles.
Now he's walking 1,000 miles alone and unaided across Asia's second biggest desert.
"I was looking for another adventure, but a cold one like Antarctica," Newall says.
"And I found out that nobody has ever walked across the Gobi Desert in winter."
This week Newall, from Leadhills in South Lanarkshire, begins his two-month trek across southern Mongolia where he will battle night-time temperatures of -40°C, the strain of pulling a 150kg trailer, and wolves.
He says: "At a couple of points I'll have to head into the mountains to avoid sand because I can't get the cart through.
"I'll need to be careful because there are wolves up there. Some people say they're not a problem, others say you've got to take protection.
"I can't carry a gun on the plane so I'll have to buy fireworks to scare them away."
But Newall says by far the biggest obstacle is finding water.
"In Antarctica I was dragging enough petrol to make seven litres of water each day by melting snow," he says.
"In the Gobi I can't carry seven litres of water for each day and there isn't any snow, so I'll have to find water every three or four days."
In September Newall flew to Mongolia and cycled the route he will be walking to GPS-mark water sources along the way.
"Based on that I think it's just about possible to do this," he says.
"There's one section which is 280km (174 miles) across and there's one source of water right in the middle of it.
"A local nomad took me to it and it was a piece of water the size of an A4 sheet of paper and about four inches deep.
"If you took water out it stayed full so it must be a spring. He said it didn't freeze in winter, but if it does I'm in real trouble.
"At that point it will be as far to go back as it will be to go forward."
Newall says growing up climbing mountains in Scotland was "a good tough training ground" for the rest of the world.
By his early twenties he had climbed all 282 Munros (Scottish peaks over 3,000ft) before going back to 'bag' them all again in winter.
He says: "It doesn't matter where you go, even on Everest you still climb about the same in any one day as climbing a Munro. You just have to do it again and again for a month.
"The conditions are usually really good in the Alps or Himalayas but in Scotland the conditions are mixed, the daylight is short, the weather is poor. You learn to prepare for the worst."
Newall's grit was called upon in 2010 when he got caught in a storm at 17,000ft during a winter ascent of Alaska's Mount Denali, the highest peak in North America.
He says: "We knew there was a storm coming in so we put up our tents to wait it out.
"We had enough food and fuel for three days but the storm lasted for six.
"It was -47°C inside that tent. I just lay in my sleeping bag for six days and nights, unable to get out."
"After that I said I wouldn't do another one, but a year later I was on the summit of Everest so it didn't last long."
Newall doesn't take on huge challenges for glory or money. He doesn't have sponsors and pays for his expeditions entirely himself.
In "real life" he is a cyber security consultant, taking trips between contracts. Climbing the seven summits and reaching both poles took 13 years and £350,000 of his cash.
So why does he do it?
"I like the planning and organising," he says.
"Get the logistics, training and equipment right and you can make the actual adventure as easy as possible. It's satisfying when you get back and nothing's gone wrong.
"Nobody has heard of me because I haven't had the disasters, and I don't really want them.
"I'm very happy to be a boring adventurer."