More mothers with young children have paid jobs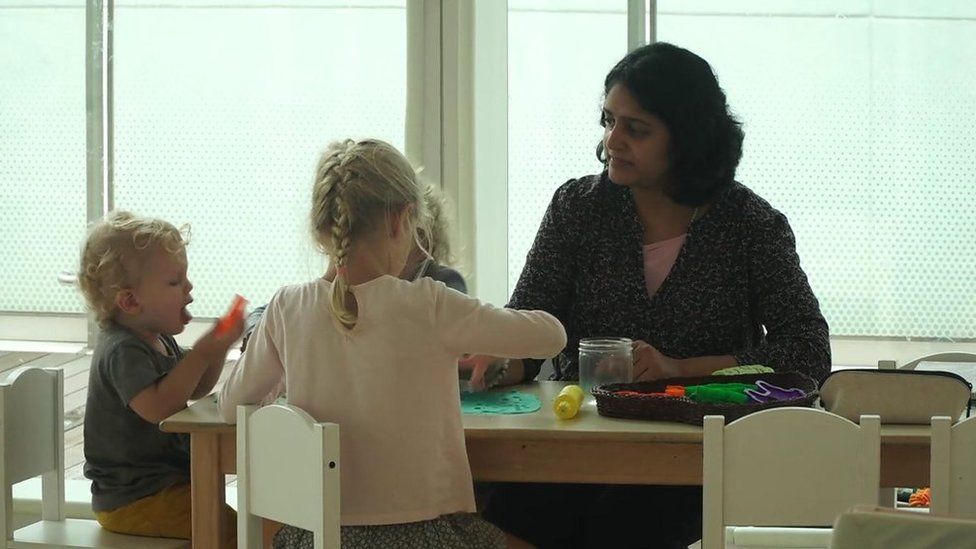 Mothers of young children in Scotland are becoming increasingly likely to be in paid work through the first five years of their child's life, government research suggests.
The study showed that 62% of women who gave birth in 2010/11 were in work when the child was 10 months old.
That compared with 58% of women who gave birth in 2004/05.
However, there has been no change in the proportion of mothers looking for work but unable to find any.
ScotCen Social Research, which carried out the study for the Scottish government, said that suggested "that barriers to maternal employment have not eased over time".
The Growing Up in Scotland report suggested that the proportion of mothers in work increased as their child got older.
While 62% of mothers who had a child in 2010/11 were in work when their child was 10 months old - including those on maternity leave - this had risen to 70% by the time their child turned five.
In 2015, only one in five (21%) mothers of five-year-olds had not been in paid work since their child was born.
That compared with one in four (24%) mothers with a five-year-old in 2009/10.
Mothers who were looking for work tended to be younger and were more likely to be single mothers and living in low-income households.
Lack of suitable jobs and childcare issues were some of the main barriers mentioned by mothers of young children looking for work.
Line Knudsen, senior researcher at ScotCen, said: "A rise in the number of women with young children in work is good news for the Scottish government who have committed to supporting women to return to work after childbirth.
"However, there is no room for complacency, and it's important to acknowledge that mothers who want to return to work still face barriers to doing so - especially younger mothers, single mothers and those with fewer qualifications."
The Scottish government said it was seeking to increase the number of mothers returning to work "to ensure no-one is forced to choose between their career or their family responsibilities".
Jamie Hepburn, the employability minister, said: "We have committed to implementing pilot schemes to reduce the burden of upfront childcare costs and we will almost double free early learning and childcare.
"Our pregnancy and maternity discrimination working group will continue to look at how we can remove any barriers to work, promote the benefits of flexible working and provide information on employment rights to pregnant workers."
Related Internet Links
The BBC is not responsible for the content of external sites.