Carers arrested in hunt for missing woman Margaret Fleming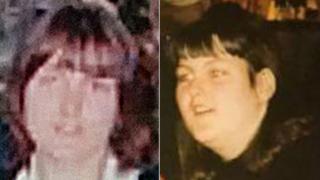 Detectives investigating the disappearance of Margaret Fleming have arrested her carers.
Eddie Cairney, 76, and Avril Jones, 57, reported her missing a year ago, but police said the last independent sighting of Margaret was in 1999.
The pair are expected to appear at Greenock Sheriff Court on Friday.
A five-bedroom cottage in Inverkip, Inverclyde, has been the subject of intensive police searches including excavation of the garden.
But no trace of Margaret - who was 19 when she last seen in public and would now be 36 - was found by the time the search concluded in April.
Officers were initially asked by social work officers to call at the remote house, named Seacroft, which lies next to the coast on the road between Inverkip and Wemyss Bay.
Margaret, who has learning difficulties, was reported missing by Mr Cairney and Ms Jones on 28 October last year.
Police later said that other than Mr Cairney and Ms Jones, the last independent sighting of her was at a family gathering on 17 December 1999.
Saturday marks the first anniversary of Margaret's disappearance.