MSP Monica Lennon didn't invite alcoholic father to wedding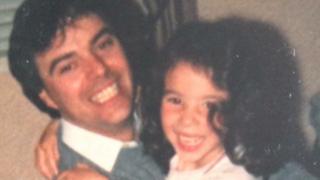 When MSP Monica Lennon was due to get married her father's drinking was so bad she decided not to invite him.
She told BBC Scotland's Kaye Adams programme she loved her father and tried for years to "fix him".
But when it came to her wedding celebrations she thought there was no chance he would get his drinking under control.
Ms Lennon was 24 when she got married and the decision to keep him away from the wedding was a way of coping after she had sought counselling for the effect of her alcoholic father.
She says the decision did not go down well with her family.
"It was painful for other people," she says.
"They probably thought it was harsh and maybe unnecessary but families can go into denial."
She says: "There is that deep shame and perhaps I was bringing attention to a problem nobody else wanted to bring attention to."
Twelve years on, the 36-year-old Scottish Labour MSP, who grew up in Blantyre in South Lanarkshire, is again attempting to confront problem drinking and the affect it has on those who grow up around it.
During First Minister's Questions last month, she dispensed with the statistics on the harm caused by alcohol and instead shared the story of her father Gerry's addiction and his death from alcohol abuse at the age of 60.
She told MSPs: "Too often, families only break their silence about drug or alcohol harm after they have buried their loved ones. I know because two years ago my dad died as a result of alcohol harm."
Ms Lennon's message to parliament was that people affected by alcohol harm matter and "they are not to blame".
The MSP told Kaye Adams she had been a "wee bit impulsive" in making such a personal speech without warning family members but she was determined to change people's perspective and remove the "stigma" of alcoholism.
She said the NHS spends billions coping with alcohol harm so "even if we don't feel moved by the emotional side of it, it makes huge economic sense to get a grip on this".
Ms Lennon, who now has an 11-year-old daughter, says growing up with an alcoholic father was "traumatic".
She says: "For me as a teenager I wanted to fix my dad's drinking.
"I wanted to make it all better and I thought I had the answers.
"When that does not work out you feel like a failure yourself.
"You feel guilt because you know it's devastating to watch someone's life fall apart."
She says: "You feel like you are losing a parent. That person is disappearing in front of you - that wonderful, loving person who has got so much to offer."
Her father Gerry was a clever kid from a poor background, she says.
He quit school early but went back to college and eventually became a local council health and safety manager.
Ms Lennon says he was often great fun and loved music and singing but he often "lashed out" verbally.
"He was trying to make everyone else feel guilty and sorry for him," she says.
When her parents split, Ms Lennon says she felt responsible for him.
"I remember when I was 18 and at university and my parents weren't together and my dad just wasn't coping with that," she says.
"So his excuse was 'I'm going for a walk' but really he was going to the pub."
She says she was so worried about his poor mental health that she thought he might take his own life.
"If you are 18 and feeling responsible for that, it is horrible," she says.
'Aged him rapidly'
Ms Lennon says she always wanted her father to be "proud" of her but he was more interested in drinking.
"You are thinking 'if I can do something amazing to get his attention, if I can achieve more, then that'll turn it around'," she says.
"I was in a hurry to leave school so I went to university at 16, thinking that was amazing because my dad wanted to go to university and it didn't happen for him.
"Now I'm 36 and I realise none of it would have made any difference but I don't think the guilt has entirely gone away."
The anger subsided as she began to understand his illness and now she feels sadness over his wasted years.
"My dad was 60 when he died," she says.
"He wasn't old at all but alcohol had aged him rapidly.
"He retired about 51, early retirement, but if we are being honest it was because his drinking had really started to impact on his work.
"He retired far too young and basically spent every day in the pub from that point. There is a lot of sadness about what could have been."