Autistic Rian sectioned at age of 13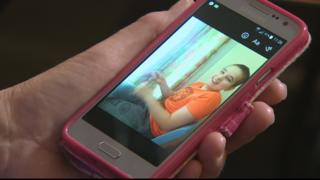 Three years ago, Rian, who is autistic and has learning difficulties, was sectioned and admitted to hospital in Edinburgh.
For him it meant spending months on his own with only the medical staff for company.
For his family, it was a heart wrenching 11-month separation.
His grandmother says he should have been able to spend time with other youngsters during that time and that her family just want the best for him.
Marilyn Beagley, who lives in the capital, says her grandson keeps in regular contact with her, despite him now living at a residential school in Glasgow.
'Peer group'
However, as of 7 November, his place at the school will be terminated and the challenge of finding a new place for him will begin again.
Ms Beagley recalled how he was sectioned in 2014, at the age of 13, and the impact that had on his family.
Because of his age and circumstance, Rian was treated in an area of the Royal Edinburgh Hospital that was apart from the other patients.
Ms Beagley said: "Rian was on his own in the unit, he had no peer group, it was just staff and sometimes it was three-to-one, sometimes it was four-to-one.
"He would come home to visit for a few hours in a day, which was really nice and it was nice for him because he was having family contact, but then he was straight back into the unit being on his own again.
"And that went on for 11 months. It was really hard because as much as he doesn't mix with people, he needs some kind of peer group round about him."
"We're a very close-knit family and there's always cousins and he has two sisters - there was always somebody about, and all of a sudden he was just on his own and that must have affected his mental health as well."
'The mum thing'
Mrs Beagley said it would have been far better to have a facility where Rian could have been treated alongside other children with needs similar to his.
She said: "When children with special needs go to respite, they do form friendships, so if they were in a mental health unit for a certain length of time they would be able to have friendships as well, rather than being put away and left on their own.
She added: "His mum and his sisters found it really, really hard, especially when he used to come to visit for a couple of hours and then go back.
"It's really hard to say goodbye, because somebody else was putting her child to bed, somebody else was looking after him when he was ill and that was hard on her because she is his mum and wanted to do the mum thing."