Fall in young mental health patients on adult wards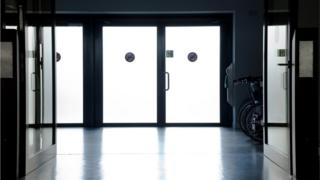 The number of young people with a mental illness being treated in non-specialist wards has seen a "significant drop", a report has found.
The Mental Welfare Commission said there were 207 admissions to non-specialist wards in 2014-5, dropping to 71 in the last year.
Most of those 71 admissions - involving 66 young people - were to adult wards.
The Scottish government welcomed the report but said it recognised there was still work to be done.
Every health board in Scotland reported a fall in treatment on non-specialist wards, but the commission said there were "marked" reductions in Greater Glasgow and Clyde, Tayside, Ayrshire and Arran, and Grampian.
Dr Gary Morrison, executive director at the Mental Welfare Commission, said: "Children and young people under the age of 18 who need hospital treatment for mental illness should, wherever possible, be treated in a specialist unit, designed to care for their age group.
"We have raised concerns in the past when we saw the numbers going to non-specialist, usually adult wards, rising, and last year we were glad to see a reversal of that trend."
He added: "We know that services have been working hard across the country to achieve this change, and we welcome it."
---
Sectioned at 13
Three years ago, Rian, who is autistic and has learning difficulties, was sectioned and admitted to hospital in Edinburgh.
For him it meant spending months on his own with only the medical staff for company.
For his family, it was a heart wrenching 11-month separation.
His grandmother says he should have been able to spend time with other youngsters during that time and that her family just want the best for him.
Marilyn Beagley, who lives in the capital, says her grandson keeps in regular contact with her, despite him now living at a residential school in Glasgow.
However, as of 7 November, his place at the school will be terminated and the challenge of finding a new place for him will begin again.
---
The commission believes that the reductions have been achieved by staffing "stability" in Scotland's three specialist inpatient units.
There have also been improvements to admission and discharge procedures in these units and an expansion of services provided by Children and Adolescent Mental Health Services (Camhs), the commission said.
The report also made two recommendations:
Admissions procedures to the three specialist units should be reviewed to improve out-of-hours referrals
Scottish government and health boards should review availability and access to intensive psychiatric care unit beds for young people nationally
The Scottish Children's Services Coalition (SCSC) welcomed the figures, but said there were still too many under-18s with mental illnesses being treated in the wrong wards.
"We have raised this issue previously with the Scottish government and are glad to see a reversal in this trend and note that services have been working hard across the country to address this," a spokesman said.
"It should be noted, however, that there are currently only 48 specialist hospital beds provided by the NHS in Scotland for adolescents with mental health problems, despite increasing demand."
The specialist units are in Dundee, Edinburgh and Glasgow - but the SCSC said there was no inpatient provision north of Dundee.
Mental Health Minister Maureen Watt said: "As the report confirms, this reduction reflects the Scottish government's work to invest in and improve specialist child and adolescent mental health services across Scotland.
"That work is especially important as more young people are coming forward to seek help as the stigma surrounding mental health declines.
"While welcoming the significant step forward, I am aware there is much work still to do. That's why we are continuing to focus on making further improvements through our 10-year Mental Health Strategy."