Scottish cardiac arrest resuscitation rates rise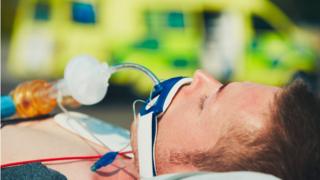 More Scots are being successfully resuscitated following a cardiac arrest, according to Scottish Ambulance Service (SAS) figures.
Over the last six months, an average of 66% of patients whose arrests were witnessed by ambulance crews were alive on arrival at hospital after treatment.
SAS said the "fantastic" results followed the introduction of new "models of care".
The figures have been released on Restart a Heart Day.
The day of action across Europe aims to teach life saving cardiopulmonary resuscitation (CPR) skills to as many people as possible.
Every year about 3,000 people are treated for an out-of-hospital cardiac arrest by ambulance crews in Scotland.
As it released the latest figures, SAS said patients with immediately life-threatening conditions were now being identified earlier in the 999 call process, and were being treated more rapidly.
It said the introduction of new CPR technology had helped, as had sending two ambulances to each cardiac arrest wherever possible.
The service added that it believed its approaches were making a "significant contribution to saving an additional 300 lives per year and up to 1,000 lives by 2020."
'Unique challenges'
Paul Gowens, lead consultant paramedic for the Scottish Ambulance Service, said: "These are fantastic results for Scotland, putting us up there with the best you'll see anywhere in the world.
"We are a country with unique challenges, responding to calls in not just urban, but remote and island communities too and these figures are world class.
"We know that the sooner people get treatment after a sudden cardiac arrest can mean the difference between life and death and we've implemented a number of innovative approaches over the last couple of years to prioritise patients with immediately life-threatening conditions in an effort to save more lives.
"Cardiac arrests are now being identified earlier in the 999 call process, ambulances being dispatched more quickly, and people being treated more rapidly."
Meanwhile, free CPR training will be offered at key rail stations around Scotland on Monday as part of Restart a Heart Day.
Volunteers working with Save a Life for Scotland will be at Aberdeen, Haymarket (Edinburgh), Kilmarnock and Inverness stations to teach heart-starting skills to staff, passengers and station visitors.
By 2020, the charity wants to see 500,000 Scots trained to administer CPR on someone having a heart attack.
Lisa MacInnes, national programme manager for Save a Life for Scotland, said: "Each year in Scotland, thousands of people of all ages and backgrounds will have an unexpected cardiac arrest.
"Being first on the scene is scary. Calling 999 to get help on the way and stepping up to do compression-only CPR, if asked to over the phone by the ambulance service call taker, is not always easy - but it's the right thing to do.
"Taking a few minutes to learn how to perform CPR and make yourself 'CPR ready' will make all the difference, and can save a life."