Inaya's mother said she 'put her to sleep forever', court told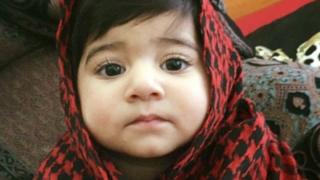 A woman accused of murdering her 14-month-old daughter came downstairs holding her child, saying "I've put her to sleep forever", a court has heard.
The account was given by the sister-in-law of Sadia Ahmed at her trial at the High Court in Glasgow.
Ms Ahmed, 27, is accused of assaulting Inaya Ahmed in April last year at the family home in Drumchapel, Glasgow.
Inaya died in hospital several days later. Ms Ahmed denies murdering the child.
The relative, also called Sadia Ahmed, 34, told prosecutor Paul Kearney Ms Ahmed and her daughter were in a bedroom on the ground floor of the house in Glasgow.
The mother-of-three told the court that Ms Ahmed took her daughter and went upstairs and was up there for 30 to 45 minutes.
Mr Kearney asked: "Do you think she went straight upstairs or could she have gone to prepare food first?"
The sister-in-law, who gave her evidence in Urdu, said: "I think she went straight upstairs."
'Normal'
She was then asked what Ms Ahmed's mood was that morning and replied: "It was just normal."
The witness was asked what was the next thing she remembered happening after Ms Ahmed went upstairs.
She responded: "She brought Inaya downstairs to the lobby. We heard her voice.
"She was holding Inaya against her shoulder and said: 'I've put her to sleep forever.'"
When asked what language Ms Ahmed was using, she replied: "She was speaking Urdu."
The jury was told that Noor Ahmed - Ms Ahmed's mother-in-law - came out took Inaya from her and asked: "What has happened to her?"
Mr Kearney said: "Did the accused respond?" and the witness replied: "She just said again 'I've put her to sleep forever.'"
'Confused'
Mrs Ahmed was asked why she never told the police about Ms Ahmed allegedly saying this.
She replied: "I didn't know what was happening. I was confused. I didn't know what to say and I didn't know what not to say.
"Everyone was saying she choked on bread."
The jury has heard that a large extended family lived in the six-bedroom Drumchapel home.
Police and paramedics were called to the house around 11:00 on 17 April, last year.
Inaya was taken to the Royal Hospital for Children and died there on 20 April.
Earlier consultant paediatrician Alison Ramsay told the trial that Ms Ahmed appeared "shellshocked" when she was at the hospital with her child.
The trial before Lord Matthews continues.