SNP conference: Is the childcare pledge 'unmatched'?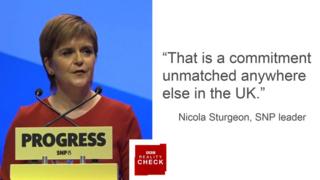 The claim: Nicola Sturgeon told her party conference that the Scottish government's commitment to early years education and childcare was "unmatched anywhere else in the UK" as she fleshed out plans to expand childcare provision.
Reality Check verdict: Overall, Scotland's planned childcare provision would be the most generous in the UK, as it plans to offer 1,140 hours a year, regardless of whether parents are in work. However, a pilot scheme under way in Wales is better for working parents as it offers 1,440 hours a year.
When Nicola Sturgeon took to the stage at the SNP conference, she said she was committed to giving children in Scotland "the best possible start in life".
She confirmed that the Scottish government would increase its offer of free childcare from 16 hours a week to 30 hours for three- and four-year-olds, as well as vulnerable two-year-olds, by 2020.
And she pledged to double investment in early years education and childcare, from £420m to £840m a year, by the end of the current parliament.
"This is a commitment unmatched anywhere else in the UK," she said. "And it's the best investment we can make in Scotland's future."
The first minister's office confirmed that what she meant was that the universality of care offered to children north of the border would be better than that provided in England, Wales and Northern Ireland.
Reality Check has looked into the claims.
Parents of three- and four-year-olds and vulnerable two-year-olds in Scotland are currently offered 600 hours of free childcare a year.
It works out at roughly 16 hours a week over 38 weeks of the year but families can choose to spread the hours over a longer period.
The Scottish government wants to increase annual childcare provision to 1,140 hours by 2020.
Funded childcare is currently offered to all families in Scotland - regardless of the employment status of their parents.
That is where Nicola Sturgeon's plans differ from those in practice across the rest of the UK.
England
All families in England are currently offered 570 free hours a year.
However, where both parents (or one in single-parent families) work more than 16 hours a week, they are entitled to 1,140 hours a year.
Wales
In Wales, a pilot scheme is under way where working families in seven authorities are offered 1,440 hours of childcare a year.
That works out at 30 hours a week over 48 weeks.
As in England, it is available only to families where both parents (or one in a single-parent family) work more than 16 hours a week.
Every child in Wales is eligible for 10 hours of early years education a week, from the term after their third birthday. That is incorporated into the 30 free hours in the pilot areas.
Northern Ireland
Families in Northern Ireland can access between 12.5 and 22.5 hours of funded pre-school education a week over 38 weeks for all three- and four-year-olds.
One of the key actions of the NI executive's draft programme for government was to "extend responsive, high-quality provision in early childhood education and care" for families with young children.
However, Northern Ireland has been without an executive for 10 months, following a row between the DUP and Sinn Fein. The parties are in discussions to restore the government.
---
---