Homicide figures increase in Scotland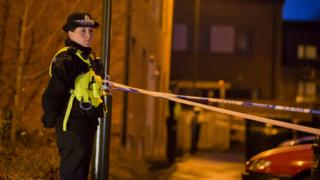 The number of people killed in Scotland has risen for the first time in seven years, according to new statistics.
Official figures reveal that there were 64 victims of murder or culpable homicide north of the border in 2016/17, up from 58 the previous year.
Despite the rise, killings remain at historically low levels.
A total of 61 homicide cases were recorded by police in the year to March - the second lowest annual figure since records began in 1976.
Homicides in Scotland 2016/17
64
Murders or culpable homicides
67% of victims knew the accused

48 victims were men

47% of cases involved a sharp instrument

1 person was shot
Getty Images
Three of the incidents involved more than one victim.
Over 10 years, from 2007/08 to 2016/17, the number of homicides has fallen from 115 to 61.
The figures were published in an annual report on homicide in Scotland by the country's chief statistician.
It also reveals that:
Twelve homicides took place in Glasgow during 2016/17 - 20% of the total
Three-quarters of homicide victims (48) were men
Three of last year's homicide cases remained unsolved on 31 March
A sharp instrument was used to kill 47% (30) of victims - all but two of those involved a knife
One person was shot
In two thirds of cases (67%) the victim and the main accused knew each other
Of the 77 people accused of homicide, 22 were under the influence of alcohol, drugs or both
Justice Secretary Michael Matheson said: "While we have seen large reductions in homicides over the past 10 years, every death represents a tragic loss of life, leaving friends and families grieving.
"That is why we will maintain our efforts across justice and public services, through education and enforcement, to continue driving down violence in our communities.
"We continue to ensure our law enforcement agencies and courts have the resources to deal with those who harm others, while supporting prevention work with young people and projects that help people break free from cycles of violence."