The papers: Sturgeon plans '10 more years'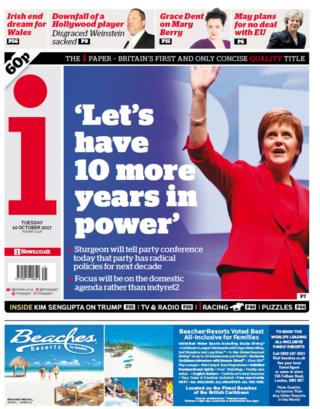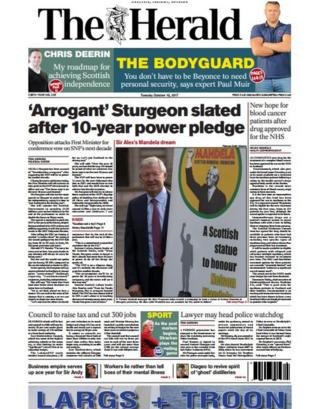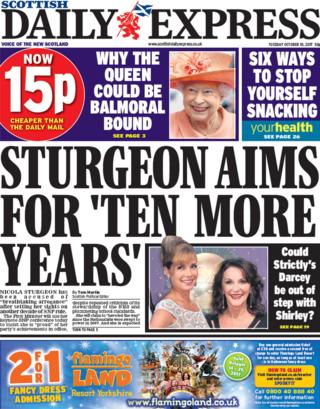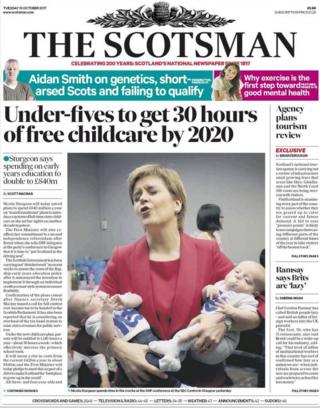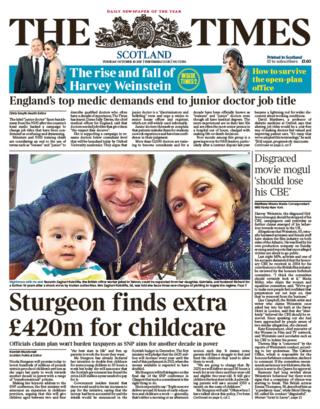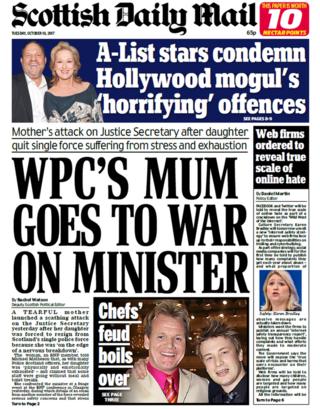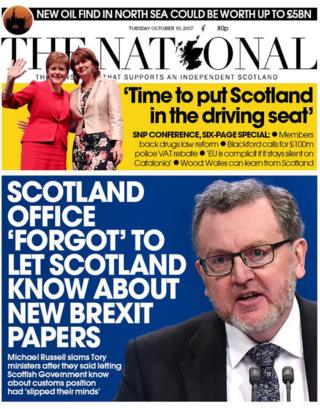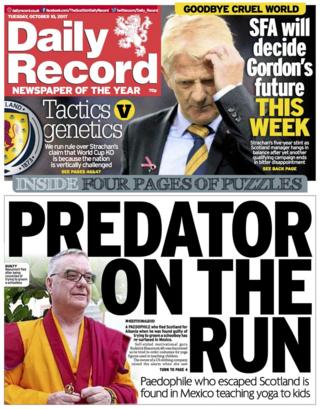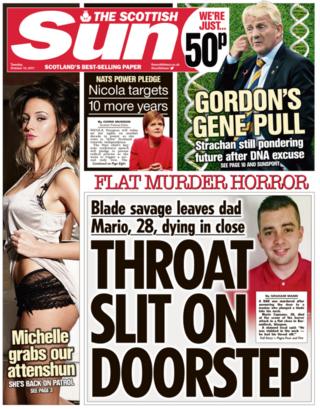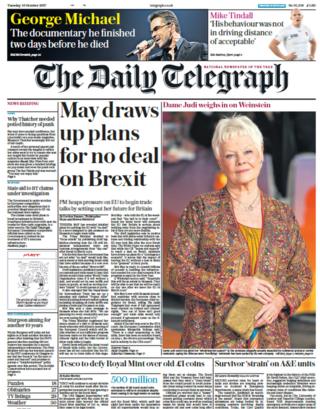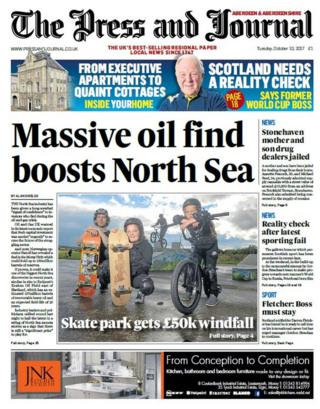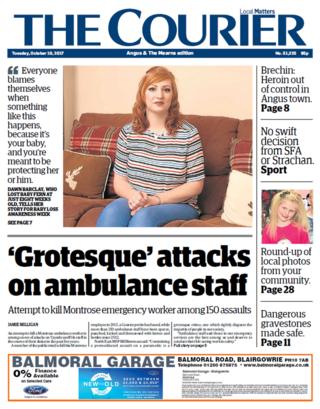 The SNP conference again provides a rich seam of stories for Scotland's newspapers, with many focusing on the content of Nicola Sturgeon's closing speech on Tuesday.
She will tell members that the party is heading for another decade in power and she will insist that her main focus will be domestic policy rather than another independence referendum, according to the i newspaper.
In The Herald, Ms Sturgeon is accused of arrogance by both the Scottish Conservatives and Scottish Labour for presuming she will lead a government for another 10 years.
A similar story leads the Scottish Daily Express, with the paper reporting that the SNP leader will tell delegates that she is "proud" of party's achievements in office, despite criticism of its record on the NHS and education.
The Scotsman focuses on the SNP's plans to spend £840m a year on "transformational" plans to introduce full-time state childcare for under fives.
In her keynote speech, Ms Sturgeon will argue that the move will give children "the best start in life" and free up parents to work the hours they want, reports the Scottish edition of The Times.
Meanwhile the Scottish Daily Mail reports that the mother of a "physically and emotionally exhausted" police officer confronted Justice Secretary Michael Matheson at the SNP conference on Monday. She told him her daughter was forced to resign because she was on the "edge of a nervous breakdown".
The National leads with claims that the Scotland Office "forgot to tell" the Scottish government about new Brexit papers on trade and customs. The news emerged at a fringe event at the SNP conference in Glasgow.
A convicted child sex offender who fled Scotland before he could be sentenced for his crimes has re-surfaced in Mexico, according to the Daily Record.
The Scottish Sun reports that Glasgow man Mario Capuano, 28, was murdered after he answered his door to a man who stabbed him in the neck.
Theresa May has revealed plans for leaving the EU with "no deal" in a move designed to pile pressure on Brussels to begin trade talks, according to the Daily Telegraph.
An oil find in the Moray Firth has given the North Sea industry a long-awaited "signal of confidence", according to the front page of the Press and Journal.
Attacks on ambulance staff are the focus of The Courier's front page, with the newspaper finding that more than 150 of the emergency workers in Tayside and Fife had been spat at, punched, kicked or threatened with knives or bottles since 2012.