How would you turn the A9 into an 'electric highway'?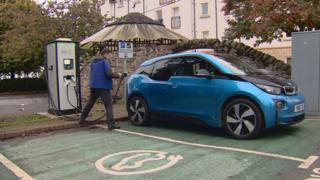 Scotland's longest road is to be turned into an "electric highway" under plans announced by the Scottish government.
It's part of the government's big push to get drivers out of petrol and diesel vehicles which contribute to climate change and cause pollution in our towns and cities.
The aim is make it easier for people with electric vehicles to travel the full length of the country. But what exactly is needed?
Clearly the main demand would be for electricity, with the biggest gap between charging points currently about 88 miles (142km).
The car I was test driving had a comfortable range of about 100 miles (161km), which is typical, and so you can see why drivers might become anxious on that leg.
At either end of the leg, in Helmsdale and Scrabster, there's just a single charger so if you arrive and there's already a car plugged in, it might mean a long wait.
Ministers haven't said how often there would need to be charging points or who would pay for them.
But Robin Lambie, who runs the Ralia cafe near Newtonmore, hopes he can host one of the facilities.
He said: "It sounds great. If it means putting charging points in every lay-by that might be good, if it's free.
"If it means giving me lots of charging points and the government's willing to pay for it that could be really good because people would stop and maybe buy a cup of coffee at the same time."
Legend has it that when the current A9 was built there was an agreement not to place services directly on the road.
The idea was that drivers would have to divert into villages to fill up or buy a sandwich, thereby contributing to the local economies along the route.
That policy no longer exists and there's some concern that charging facilities would be placed in "enhanced lay-bys" along the route.
In the Cairngorms National Park, that would have to be approved by the park authority which, although broadly supportive of electric vehicles, exists partly to protect the landscape.
So would they allow giant car parks to be constructed at regular intervals?
Director of planning and rural development, Murray Ferguson, said: "Most of the A9 goes through the national park and we know that the visitors and local people really value the scenery.
"We want to provide a really good transport experience but keep the landscape impact as low as possible. There's no need, I don't think, for large structures. We'll want to be doing it as sensitively as possible."
The charging technology on the route is thinly spread out, but Pitlochry appears to be leading the way with a bank of chargers in one of the village's main car parks.
Using rapid chargers, which are becoming more common, it took about 20 minutes to go from empty to around 100 miles - but obviously this depends on the vehicle being driven.
The local butcher has a fleet of vans to provide deliveries across Perthshire which he has converted to run on electricity.
Rory Macdonald says his drivers have never run flat but they have come close. He says the number of charging points will have to rise rapidly to keep up with demand.
He said: "We've put one in ourselves at the shop to charge our own vans and there's one at the local public car park up the street here. But it's just not nearly enough.
"When you look around there are more and more electric vehicles on the road and you need to have the infrastructure to support that."
To get from Grangemouth, at the southern end of the A9, to Scrabster in the north took me three days but I was stopping a lot more than most tourists.
The vehicle was charged at Auchterarder, Pitlochry, Aviemore, Tain and Helmsdale.
Emilia Hanna, a pollution expert with Friends of the Earth Scotland, met me at my first stopping point and was enthusiastic about the electric highway plan.
She told me: "Electric cars these days are able to do over 100 miles without needing to be charged, so if you were driving from Edinburgh to Inverness on the A9 you might need to charge up once. It's perfectly feasible.
"By electrifying the A9 the Scottish government is really showing that the future is electric."
Since the southern end of the road was turned into motorway, the start of the A9 has been at Grangemouth. Ironically this is right next to the oil refinery producing much of our petrol and diesel.
'Range anxiety'
Clive Bridges runs one of the few filling stations on the route at Ballinluig.
His main customers are lorry drivers and he appears unconcerned at the prospect of our appetite for such fuels drying up.
He said: "Maybe in another 20 years time it will be a reality. I'm not worried about it at all because at the moment we've got three high-speed diesel pumps here. If we need to get three high-speed electric pumps to power up the lorries we will get them."
There's little detail yet on the Scottish government's "Electric Highway" plan which formed just a single sentence in the Programme for Government document.
A Transport Scotland spokesman said: "We recognise that as electric vehicle driver numbers increase so must our charge point numbers to ensure that drivers have the support and confidence to travel the country without experiencing 'range anxiety.'
"To support our ambition of phasing out the need for petrol and diesel cars and vans by 2032, we will continue to work with each of our delivery partners to further develop the charging network across the entire A9 trunk road, making it Scotland's first electric highway."
From my journey, it's clear there is a lot of interest in the concept of an electric highway.
But still many questions.