Madonna minister appointed as Church of Scotland Moderator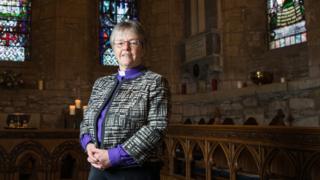 The Highland minister who married Madonna and Guy Ritchie is to be the Church of Scotland's next Moderator of the General Assembly.
The Reverend Susan Brown, minister of Dornoch Cathedral, will take on the 12-month role in May 2018.
The 58-year-old, who also baptised Madonna and Ritchie's son Rocco, said she was "deeply moved and honoured" to be chosen.
She will succeed the current moderator, the Right Rev Dr Derek Browning.
Mrs Brown said: "Being moderator will not be about what I can do, but about what God wants to do.
"I am conscious that it is both a great privilege and a great responsibility - one I can only undertake at God's prompting."
Her appointment was welcomed by the principal clerk of the Church of Scotland, Dr George Whyte.
"I was delighted to hear of Susan's nomination. She brings great personal qualities and a wide range of ministerial, community and family experience to the post," he said.
"I look forward to working with her throughout the year."
Mrs Brown has been a minister in the Highlands for 32 years, spending 13 years at Killearnan on the Black Isle before moving to Dornoch Cathedral.
She married Madonna and Ritchie at a ceremony in Skibo Castle near Dornoch in December 2000.