Scotland's papers: Nicola Sturgeon 'poll shock'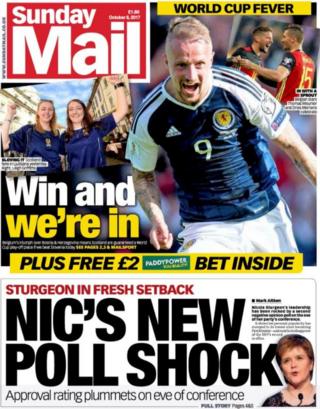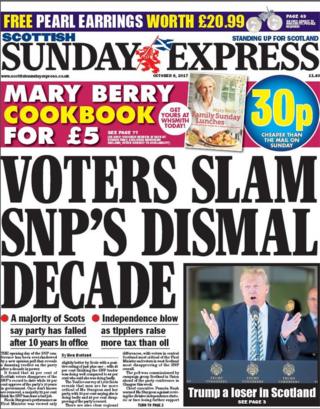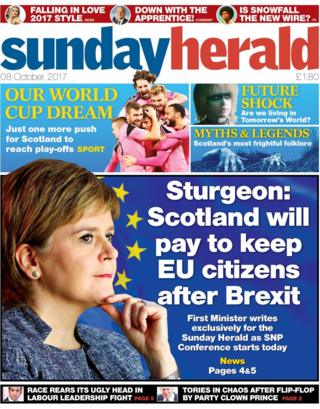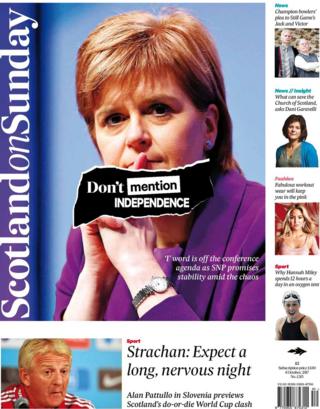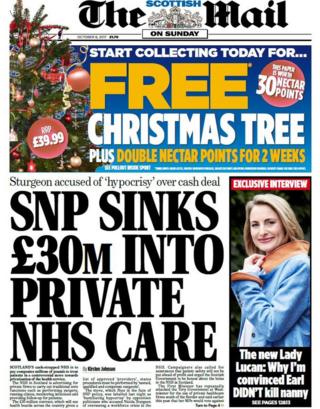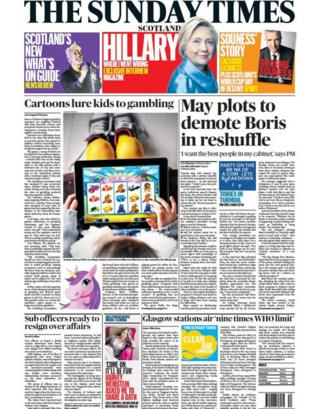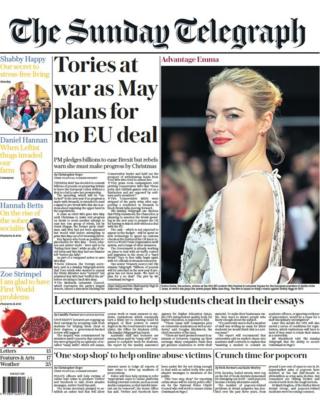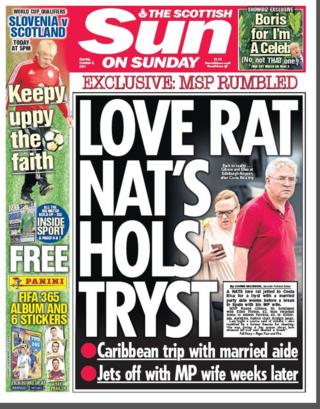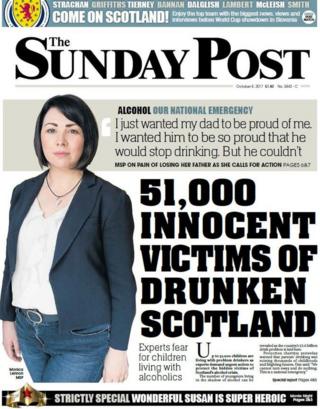 The face of the first minister features on many of Scotland's front pages on Sunday.
Nicola Sturgeon's leadership has been "rocked" by a second negative opinion poll on the eve of her party's conference, writes the Sunday Mail. The paper says it shows her personal popularity has slumped to its lowest since becoming first minister.
The Scottish Sunday Express also leads with the results of the latest YouGov poll and says that it found 42% of Scottish voters disapproved of the SNP's record to date, while 39% approved of the party's 10 years in government. Another 19% did not know, says the paper.
The Sunday Herald also features Ms Sturgeon on its front page and says she has vowed to pay to keep EU citizens in Scotland after Brexit. The paper says Ms Sturgeon announced the "dramatic" move ahead of the start of SNP conference today.
Scotland on Sunday goes with a slightly different tack and claims that independence will be off the SNP agenda for the next three days as the party gathers in Glasgow aiming to win back public trust in its stewardship of public services and the economy.
Scotland's "cash-strapped NHS" is to pay companies millions of pounds to treat patients in a controversial move towards privatisation of the health services, claims the Scottish Mail on Sunday.
Elsewhere in politics, The Sunday Times reports that Theresa May will reassert her authority with a cabinet reshuffle in which she is prepared to demote Boris Johnson - as she declared last night: "I didn't come into politics for an easy life."
Theresa May has decided to commit billions of pounds on preparing Britain to leave the European Union without a deal in a bid to save her premiership, according to The Daily Telegraph on Sunday.
The Scottish Sun on Sunday carries claims that an SNP MSP had an affair with a party aide.
Up to 51,000 children are living with problem drinkers as experts demand urgent actions to protect the hidden victims of Scotland's alcohol problem, says the Sunday Post.