Bus users urged to have say on services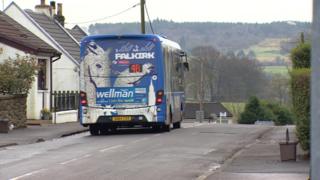 Scotland's bus users are being urged to have their say on the quality and reliability of local services.
It follows a 2016 study that found a third of areas had no Sunday service connecting them with a hospital, while it cost an average of £9 for a round trip ticket to a job centre.
Citizens Advice Scotland (Cas) said it would present the new findings to public transport policy makers.
Buses are Scotland's most popular form of public transport.
Figures show that four times as many journeys were made by bus than train in 2015-16.
However, despite their popularity, Cas said the views of bus customers were often under-represented when public policy was being decided.
The organisation wants to hear from customers about the level of service available to them via their "Your Bus Your Say" online questionnaire over the next two weeks.
Their 2016 Round the Bend study found that:
38% of locations surveyed had no Sunday service that connected them with local hospitals
In remote rural areas the median cost of a return ticket to the nearest Job Centre was £9
Passengers in rural areas surveyed faced an average 40 minute round trip to access their nearest bank branch
Residents of rural areas were, on average, five miles from the nearest GP surgery
College students in remote areas, on average, faced journey times of over an hour and at a median cost of £10 return
People have until 22 October to complete the survey.